London, England —(Map)
The Natural History Museum in London holds a yearly contest for the Wildlife Photographer of the Year. This year, the contest had 49,000 entries from around the world. Here are some of this year's best pictures, and the stories behind them.
The photographs in this year's contest are amazing in many different ways. Some capture animals you've never seen before. Others capture animals acting in ways you couldn't have imagined. And some just capture a perfect moment.
This year's grand prize winner was Sergey Gorshkov's picture of a Siberian tiger. Siberian tigers (sometimes called Amur tigers) are endangered, but there are still about 500 in Russia's far east.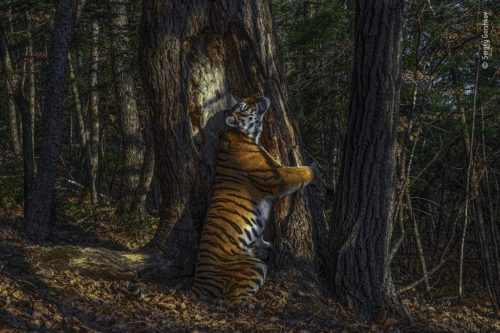 It took Mr. Gorshkov 10 months to get a shot of one of the tigers. It looks like the tiger is hugging the tree, but it's actually trying to leave its smell as a way of communicating with other tigers.
Another endangered animal, a Manduriacu frog, won the Amphibian and Reptile Behavior prize. Jaime Culebras said he walked for four hours in the Andes mountains, hoping for some good pictures. In the middle of a rain storm, he captured this picture of the frog eating a spider.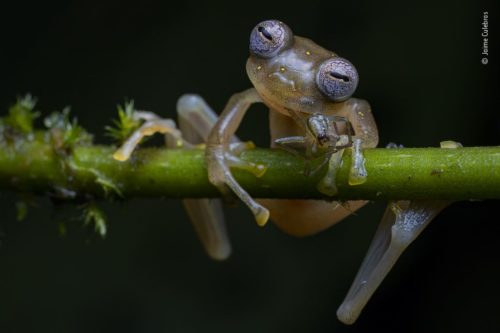 Mogens Trolle won the Animal Portraits prize with his picture of a proboscis monkey. Proboscis monkeys are known for their big noses. They're only found on Borneo and the islands nearby. Though this animal looks completely at peace, proboscis monkeys are often hunted, which has left them endangered, too.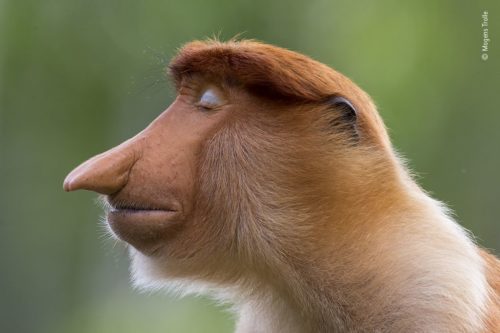 Young Competition
There is a separate contest for people under 18, known as the Young Wildlife Photographer of the Year. In this contest, pictures are judged in three separate age groups: 10 and Under, 11-14, and 15-17. Here are the winners.
10 and Under: Andrés Luis Dominguez Blanco of Spain won for his picture of a bird called a "stonechat" sitting on a bending plant. Andrés managed to take the picture without startling the bird by shooting out of a car window. Though he's young, Andrés has already won several international photo awards.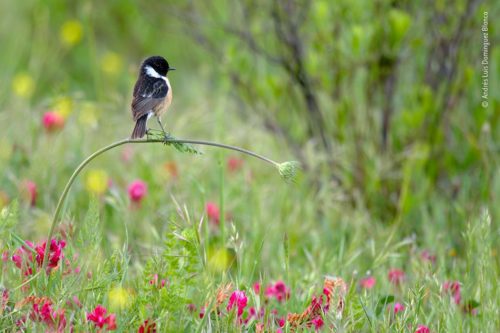 11-14: Sam Sloss, who's from Italy and the USA, has been diving since he was 10. This picture of a clownfish inside a sea anemone had a surprise that Sam didn't notice until after the dive. The thing in the clownfish's mouth isn't its tongue – it's a blood-sucking parasite. In his picture, Sam had framed three different, but connected, forms of sea life.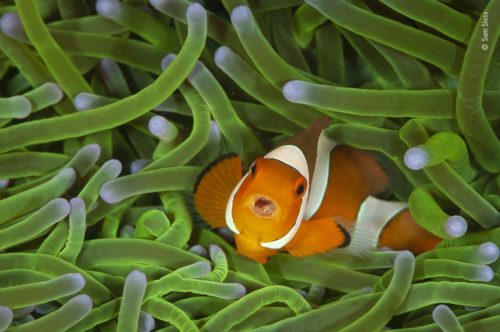 15-17: Liina Heikkinen comes from a family of wildlife photographers. She and her dad spent a day watching two adult foxes bring food to their cubs. After one parent brought home a goose, the cubs fought over it. Liina followed the cub that won that battle and was able to snap this picture of it.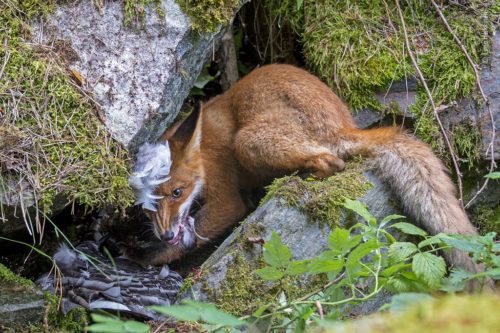 Wildlife Photographer of the Year is developed and produced by the Natural History Museum, London. The museum will open next year's contest on October 19. If you like to take pictures of nature, it's time to get busy! But even if you don't take pictures, you may want to have a look at more of the amazing photos.
😕
This map has not been loaded because of your cookie choices. To view the content, you can accept 'Non-necessary' cookies.