In the last week, elections were held in several countries around the world. In each case, the results have upset large groups of people. Today, NFK looks at the recent election results from Tanzania, Georgia, and Ivory Coast.
Tanzania: Magufuli Re-Elected – Opposition Protests
Tanzania's president, John Magufuli, has been re-elected to a second five-year term, taking over 84% of the vote in Wednesday's election. Tundu Lissu, Mr. Magufuli's most serious opponent, took 13% of the vote. President Magufuli's political party wound up with almost every seat in parliament.
The two main opposition parties are disputing the election results, saying there were problems with the way the election was held.
Tanzania's government says the election was run fairly, but some election observers agree that there were problems. Complaints include keeping out election observers, illegal voting, and shutting down or slowing down the internet and social media.
Tanzania's constitution doesn't allow courts to look into election problems once a winner has been announced. Opposition parties are demanding that the elections be re-run, and are encouraging supporters to protest peacefully on Monday.
Georgia: Georgian Dream Wins Again – Opposition Protests
Georgian Dream (GD), the ruling party in the country of Georgia, says it won Saturday's elections for parliament, taking 48% of the vote. The result seems to give GD its third straight election win, meaning Giorgi Gakharia will remain as prime minister.
But the leading opposition party – United National Movement (UNM) – claims it can form a coalition with other opposition parties. UNM won 27% of the vote. UNM wanted Mikheil Saakashvili, who was president of Georgia from 2004 to 2013, to serve as prime minister.
In some ways, the current contest in Georgia is a battle between Mr. Saakashvili, and billionaire businessman Bidzina Ivanishvili. Mr. Ivanishvili formed GD in 2012 to force Mr. Saakashvili from power.
Both men are managing things from a distance. Some people believe Mr. Ivanishvili is secretly controlling government decisions, even though he's not part of the government.
Mr. Saakashvili, who has been charged with crimes by the GD government, left Georgia in 2013. He's now living in Ukraine, where he became a citizen and politician.
Though observers say the election was largely fair, thousands of people have gathered to protest. Some politicians are calling for a re-run of the election.
Ivory Coast: Ouattara Leads, But Election Upsets Many
President Alassane Ouattara has a large lead in the early voting results from Saturday's Ivory Coast's election. The election has upset many people. Opposition parties boycotted the election, and five people have died in violence related to the election.
Mr. Ouattara, 78, is hoping for a third term as president – something the country's constitution doesn't allow.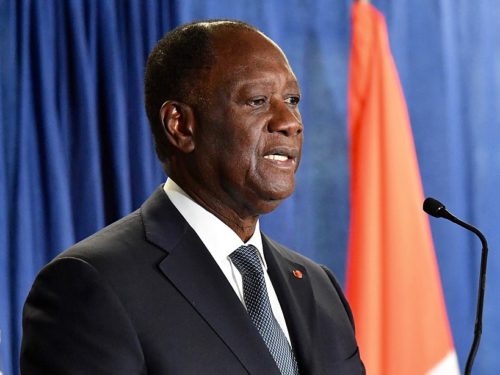 Prime Minister Amadou Gon Coulibaly was expected to replace Mr. Ouattara as president. But when Mr. Gon Coulibaly died in July, Mr. Ouattara chose to run.
Mr. Ouattara's supporters say the president's earlier terms no longer count, because the country's constitution was changed slightly in 2016.
Leaders of the two largest opposition parties disagree. Pascal Affi N'Guessan, who used to be prime minister, and Henri Konan Bedie, who once served as president, both asked their supporters to boycott the election. Mr. Affi N'Guessan said, "An election must be fair. This is not the case."
Ivory Coast had a deadly civil war after a disputed election in 2010. Most people are hoping that isn't repeated. Final election results are expected by Wednesday.