Yasuni National Park, Ecuador —(Map)
On Sunday, Ecuador held a special vote on whether oil drilling should be allowed in Yasuni National Park. The vote was part of a larger election to choose the country's next president. Nearly 60% of Ecuadorian voters chose to protect the park.
Yasuni National Park is one of the most biodiverse places on Earth. Its rainforest is home to an incredibly large number of different kinds of plants and animals.
It's also home to several tribes of indigenous people. These tribes have lived in the area for a long time. Some don't want to make contact with the modern world outside the forest.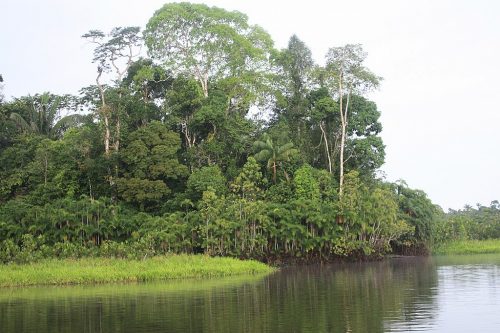 The park is also home to a huge amount of oil. Much of the money that helps support Ecuador comes from oil.
In 2007, to protect the area, Rafael Correa – Ecuador's president at the time – offered to leave the oil in the ground. In exchange, he wanted the rest of the world to pay Ecuador $3.6 billion. Though Mr. Correa worked hard to find support for his idea, no group offered to pay the money.
In 2016, Ecuador's state oil company, Petroecuador, began drilling in Yasuni. The company is drilling in a fairly small area known as Block 43. Block 43 makes up far less than 1% of the park, but it produces about 55,000 barrels of oil every day.
But the drilling has upset many people in Ecuador. Yasunidos is a group which works to protect the park. For over ten years, Yasunidos has worked to allow Ecuador's people a chance to vote on oil drilling in Yasuni. In May, Yasunidos won a court case that allowed them to put the Yasuni drilling up for a vote.
On Sunday, voters were asked if they supported oil drilling in the park or were against it. When the votes were counted, about 59% of the voters chose to stop drilling in Yasuni. Just 41% supported it.
Yasunidos called the vote "a historic victory for Ecuador and for the planet!"
But the result is a disappointment for Ecuador's current president, Guillermo Lasso. He believes the oil money is extremely important for the country. Selling oil from Yasuni brings in about $1.2 billion a year.
The government won't be able to ignore or change the results of the vote, and will now have about a year and a half to end the drilling. Petroecuador says it will cost about $500 million to stop drilling and clean up the operation.
The vote on Yasuni was part of the country's national elections. Voters also got to make their choices for lawmakers and president.
No candidate for president won more than 50% of the vote, so the top two candidates will take part in a runoff election. Luisa González, who took first place, will be challenged by second-place candidate Daniel Noboa in October's runoff.
The election was marked by violence. Ecuador has a long history as a peaceful country. But in recent years, drug-selling gangs from other countries have moved into Ecuador, and violence has increased. During the election for president, one candidate was shot and killed.
---
Did You Know…?
Yasuni National Park is reported to have more different kinds of animals in just one small area of the park (one hectare or 2.5 acres) than can be found in all of Europe. The same-sized section is believed to contain more different kinds of trees than can be found on the entire continent of North America.