Italy's Prime Minister Resigns, Hopes to Form New Government
Italy was left without a government after Prime Minister Giuseppe Conte resigned Tuesday. Mr. Conte lost the support of ex-Prime Minister Matteo Renzi last week, giving his coalition much less control in Parliament.
Mr. Conte has led the country for about 16 months. He stepped down in hopes of forming a stronger coalition government, something he says he needs to take on the coronavirus.
Italian President Sergio Mattarella will meet with leaders of political parties before asking someone to try to form a new government. Mr. Conte's old coalition partners are still supporting him.
Sudden changes of government aren't unusual in Italy, but with the coronavirus still causing huge problems, this isn't a good time for the country to be without a leader. Mr. Conte will remain in charge until a new government is formed.
Violence Breaks Out at India's Farmers' Protests
A protest by farmers in India turned violent on Tuesday, leaving one farmer dead and hundreds of police officers injured. The farmers have been protesting three new farming laws for months.
Tuesday was a day of celebration in India, and many farmers protested peacefully. But many others used tractors and other machines to remove barriers, going off the planned path of the protest march. There was violence from both sides as police used tear gas and water cannons to push the farmers back.
The main farmers' groups have condemned the violence, and suggested it was started by criminals trying to weaken their movement.
In the past, the government has paid farmers set prices for their crops. The new laws allow farmers to sell to private companies. The government says this will let farmers earn more money, but farmers worry that private companies will pay them much less.
The government has offered to change parts of the new laws, and delay them for 18 months. The farmers demand that the laws be completely dropped. It's not clear how the violence will affect future talks between the sides.
Everyone in Bubbles at Flaming Lips Concert
These days, bands aren't able to hold concerts like they usually do because of the dangers of spreading the coronavirus. To solve this problem, a band called the Flaming Lips tried something different: putting everyone at the concert in plastic bubbles.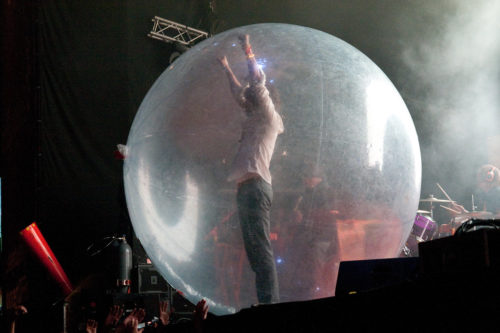 For years, Wayne Coyne, the leader of the Flaming Lips, has performed inside a plastic bubble as part of the band's shows. Last week in Oklahoma City, the band took things even further. Not only were all of the band members inside plastic bubbles, all of the audience members were, too.
The band organized 100 plastic bubbles large enough to hold 1 to 3 people. As people arrived at the concert, they were sealed into the bubbles. Each bubble came with a water bottle, a towel, a small fan, and a speaker to make sure the music could be heard clearly.
Each bubble also had a sign that fans could hold up if they got too hot or needed to go to the bathroom.
Mr. Coyne said the concert was "safer than going to the grocery store". Health experts aren't so sure. Using plastic bubbles for coronavirus protection hasn't been studied.