Midway Atoll —(Map)
The world's oldest known wild bird is a 70-year-old albatross named Wisdom, who is still surprising scientists. Since last fall, she and her mate have been sitting on an egg. Last month, their chick hatched.
The Midway Atoll is made of two small islands in the Pacific Ocean, about halfway between the US and Asia. The area is home to about 3 million seabirds, who return there every year to mate, lay eggs, and raise chicks.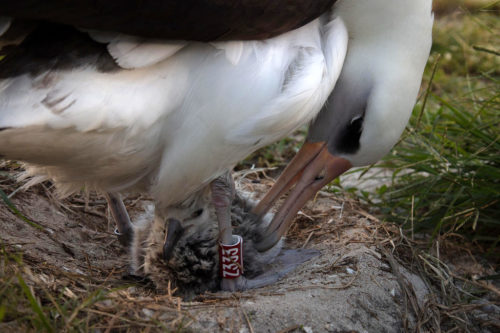 About 1.3 million of these birds are Laysan Albatrosses, like Wisdom. Albatrosses are huge birds – their wings measure around 6.5 feet (2 meters) from wingtip to wingtip. They spend most of their lives soaring over the sea.
Since Midway is so important for albatrosses, it's also an important place for scientists who study them. Putting small numbered bands on the legs of the birds helps scientists tell which bird is which. Since 1936, scientists have banded more than 260,000 albatrosses on Midway.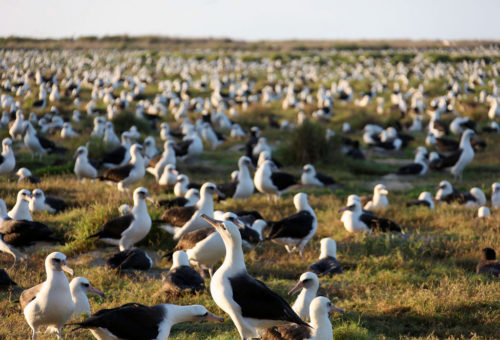 In 1956, when Wisdom was about five years old, she was banded by a scientist named Chandler Robbins. In 2002, when Mr. Robbins returned to Midway, he was surprised to find Wisdom again and realize that she was over 50 years old. Before that, scientists thought most albatrosses lived to be about 35 years old.
Albatrosses normally have just one partner. But Wisdom has lived so long that she has had several partners. Akeakamai has been her partner since around 2012.
It takes so much effort to hatch an egg and raise a chick that many albatrosses only lay one egg every other year,. But Wisdom has laid an egg for eight or more years out of the last 11.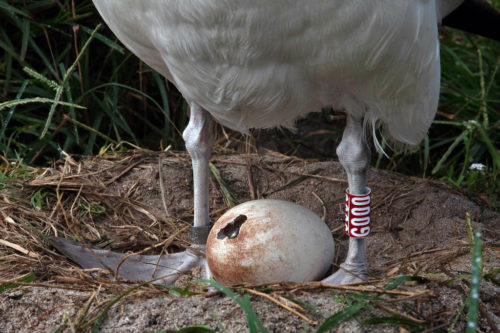 Wisdom laid her most recent egg in late November of last year. Since then, she and Akeakamai have taken turns sitting on the egg and keeping it warm. Near the end of January, the chick began pecking its way out of the shell. On February 2, it arrived.
Now Wisdom and Akeakamai are keeping busy, taking long trips over the sea to gather food for their chick. These trips can last for days and can cover as much as 1,000 miles (1,600 kilometers).
Adult albatrosses are used to flying over the ocean for very long periods, resting on the water from time to time to eat. Wisdom is believed to have flown millions of miles.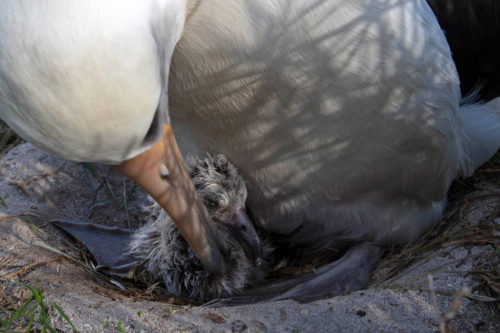 Scientists think Wisdom's age and experience may be helping to keep her safe on these trips. They say it's likely that she's learned how to avoid many ocean threats and figured out the best ways of gathering food.
Still, every year, they wonder about the same questions: Will Wisdom come back? How long can an albatross live?
Jon Plissner, who works on Midway for the US Fish and Wildlife Service, says, "We really have no idea."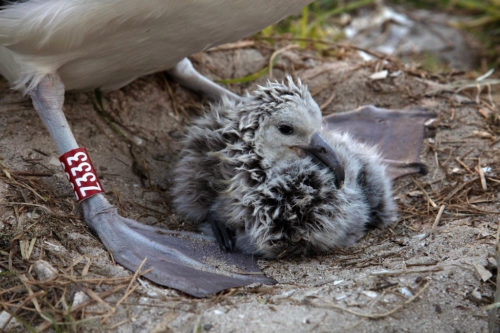 What they do know is that the world's oldest wild bird has had dozens of chicks. She's surrounded by other albatrosses that are her children, grandchildren, and great-grandchildren. And sometime this summer, Wisdom's youngest child will be ready to fly.
😕
This map has not been loaded because of your cookie choices. To view the content, you can accept 'Non-necessary' cookies.