As US Leaves, Taliban Takes Over Much of Afghanistan
Since 2001, the United States and its allies have been involved in a war in Afghanistan. But in May, the US and other countries began pulling their soldiers out. The plan to get the US out of its "forever war" in Afghanistan was started by Ex-President Donald Trump and continued by President Joe Biden.
The US War in Afghanistan
The Taliban is a group of strict Muslims who controlled most of Afghanistan from 1996 to 2001. Though they aren't officially an army, the Taliban uses warlike methods to try to achieve their goals. When the Taliban was in charge of Afghanistan, the rules, especially for women, were strict and harsh.
The US invaded Afghanistan in 2001 because the Taliban supported a terrorist group which had attacked the US. Since that time, the Taliban has been fighting against the US and its allies, as well as against the US-supported Afghanistan government.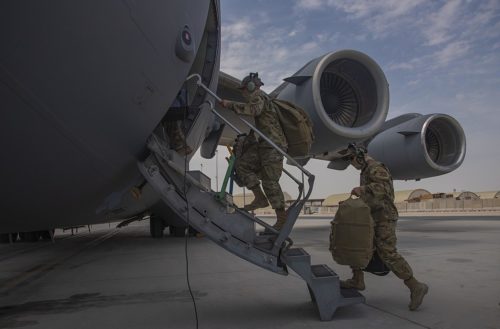 As foreign soldiers have left Afghanistan, the Taliban has increased its attacks across the country. With fewer foreign soldiers involved, the Taliban has had greater success against the Afghan army. The Taliban has taken control of roughly half of Afghanistan's 420 districts. It's now attacking several important cities that it was unable to take before.
The increase in fighting has made life dangerous for civilians. In the first six months of 2021, over 1,600 civilians were killed and thousands more were injured. The violence has gotten even worse since May.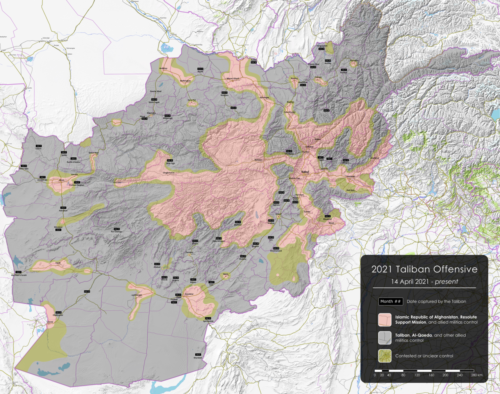 The US expects to have all of its forces out of Afghanistan by August 31. After 20 years of fighting, it's not clear what the people of Afghanistan can expect once the US and its allies are gone.
Myanmar Military to Remain in Power Until 2023
Myanmar's Senior General Min Aung Hlaing said on Sunday that the country's state of emergency will last until 2023. General Min Aung Hlaing led Myanmar's military in a coup on February 1, taking over, and throwing the country's elected leaders in jail. At the time, the military said the state of emergency would only last a year.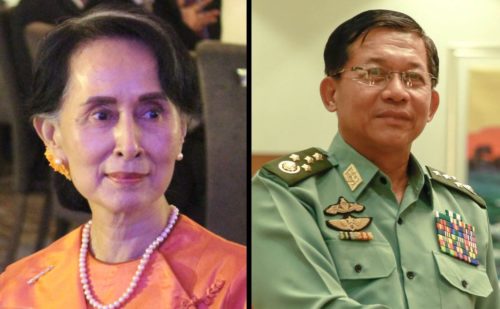 Many people think the military was scared that the popularity of the country's elected leader, Aung San Suu Kyi, would weaken their power. The military claimed that the elections of November, 2020, which Ms. Suu Kyi's party won easily, weren't fair.
The coup led to a huge protest movement. Over the last six months, the military has responded harshly to the protests. At least 940 people have been killed and over 5,400 have been put in jail. There are still daily protests, but now they are often kept short to prevent the protesters from being caught by the military.
😕
This image has not been loaded because of your cookie choices. To view the content, you can accept 'Non-necessary' cookies.
In his speech, General Min Aung Hlaing said the results of November's election no longer counted. He promised that in the future, Myanmar would hold elections with several political parties. Later in the day, it was announced that the general was the country's new prime minister.
Tied Olympic High Jumpers Decide to Share a Gold Medal
On Sunday night, Olympic high jumpers Mutaz Barshim of Qatar and Gianmarco Tamberi of Italy were tied. After two hours of competing, they had each managed to jump as high as 2.37 meters (7 feet, 9 3/8 inches), and neither one had failed a single time.
😕
This image has not been loaded because of your cookie choices. To view the content, you can accept 'Non-necessary' cookies.
But when it came time to match the Olympic record of 2.39 meters (7 feet, 10 1/8 inches) they each failed three times. They were asked if they wanted to go ahead with a "jump-off" to decide the winner. But Barshim had a better idea. "Can we have two golds?" he asked.
When they were told they could have two gold medals, the two athletes shook hands and then Tamberi jumped into Barshim's arms. It's the first time a gold medal has been shared since 1912.
😕
This image has not been loaded because of your cookie choices. To view the content, you can accept 'Non-necessary' cookies.
---
Did You Know…?
Even though they compete for different countries, Barshim and Tamberi are good friends. Both of them have had serious injuries in the past, and at times they weren't even sure they would be able to compete in this year's Olympics.