Paris, France —(Map)
People visiting the center of Paris, France now are being treated to a very unusual sight. One of the city's most famous landmarks, the Arc de Triomphe, is completely wrapped up in silvery-blue fabric.
The Arc de Triomphe is a massive monument shaped like an arch. It was built in the middle of Paris to honor the memory of French soldiers.
The wrapping is the work of one of the art world's best-known creative teams, Christo and his wife, Jeanne-Claude. Though both Christo and Jeanne-Claude have passed away, they were famous for their huge outdoor works of art, often called "installations".
Christo Javacheff, who's usually known by just his first name, came up with the idea for wrapping the Arc de Triomphe almost 60 years ago. As a young man, he lived in Paris, in a tiny room close to the monument.
Over 20 years went by before Christo came back to the project. During that time, the couple moved to New York, and travelled the world creating other large, but temporary works of art.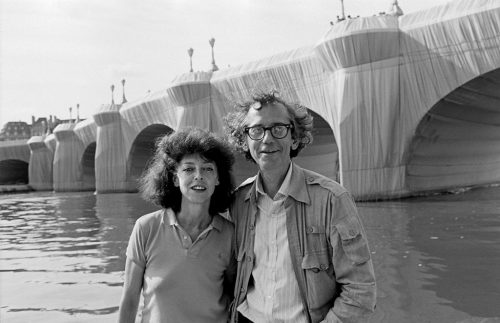 Christo and Jeanne-Claude explored many ideas, but their creations weren't designed to be permanent. One minute they were there, and a few weeks later, they were gone.
They wrapped everything from buildings and bridges in Europe to a chunk of coastline in Australia. They hung fabric in the mountains in Colorado and made a fence of it in Northern California.
But Christo didn't forget his plan for the Arc de Triomphe. In 1988, he created more drawings, studies, and models for the project. In 2017, he asked the French government for permission to go ahead.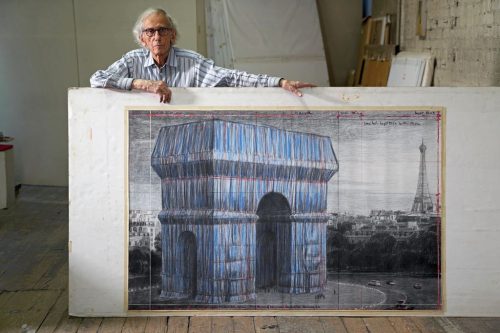 Sadly, Christo died last year, before the project could be finished. Jeanne-Claude passed away in 2009. But Christo's nephew, Vladimir Yavachev, was able to finish the project. Mr. Yavachev had worked as Christo's assistant since he was 17.
The "L'Arc de Triomphe, Wrapped" opened to the public on September 18. Speaking of the project, French President Emmanuel Macron said, "…This is what artistic adventure is all about."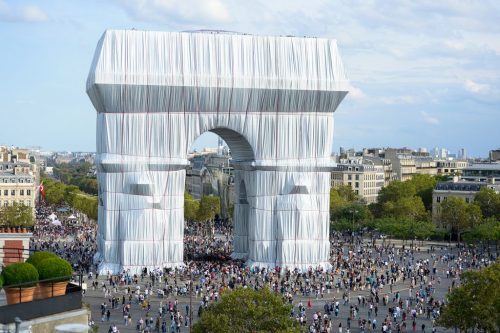 Though the project only lasts 16 days, wrapping the historic building was a huge task. Around 1,200 people were involved. They had to build steel cages to protect the sculptures.
Then they hung the fabric from the top, covering the sides, and even inside the archway, just as the artists had planned. Workers dangled off the sides of the 164-foot (50-meter) monument, using climbing ropes for safety.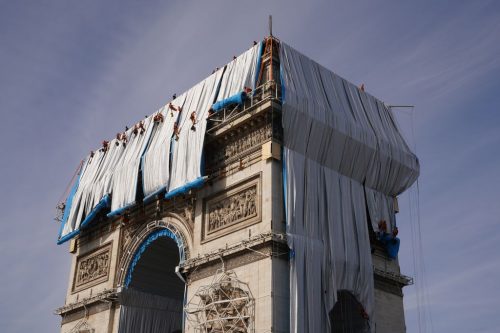 It took nearly 270,000 square feet (25,000 square meters) of material to cover the arch, and around 1.9 miles (3 kilometers) of red rope to tie it. Some people complained about so much fabric being used for such a short time. But the artists chose a material that could be recycled.
Like all of Christo and Jeanne-Claude's installations, they paid for the whole project, selling their designs and drawings to raise money.
After October 3, the silvery-blue wrapping on the Arc de Triomphe will come tumbling down. But Christo's nephew says his uncle would be thrilled to see it. "I miss my uncle's excitement," he says. "He would have been hopping around!"
---
Did You Know…?
The "L'Arc de Triomphe, Wrapped" is so popular that the French government has closed the area around the Arc de Triomphe to all
vehicles
on weekends, just to make room for all the people who want to see it.