Baltimore, Maryland —(Map)
Last Friday, doctors at the University of Maryland Medical Center successfully replaced the heart of a very sick man with a specially-grown pig's heart. It's the first time this surgery has ever been done. After three days, the patient appears to be doing very well.
"It's working and it looks normal," said Dr. Bartley Griffith, the surgeon who performed the operation. "We are thrilled, but we don't know what tomorrow will bring us. This has never been done before."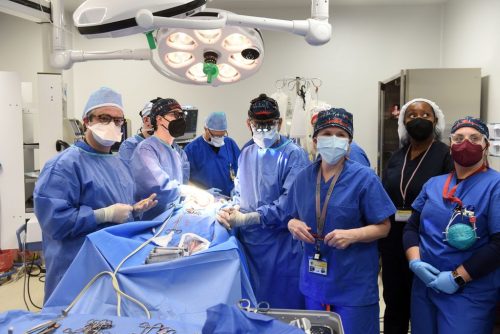 David Bennett, who's 57, is the man who was given the new heart. He was given special permission to have the unusual operation because without it, he would have died. "It was either die or do this transplant," said Mr. Bennett. "I want to live."
Transplanted Organs
Human life depends on a healthy heart, just as it depends on other healthy organs like the lungs, kidneys, or liver. One way to help a patient who has serious trouble with an organ is to replace the organ with a healthy one. This is called a "transplant".
Transplants usually come from people who have died, but wanted their organs to be used to help other people live. There are far more patients who need organs than there are organs. Over 3,800 Americans got heart transplants last year. But there are roughly 110,000 people in the United States who are waiting for some kind of transplant.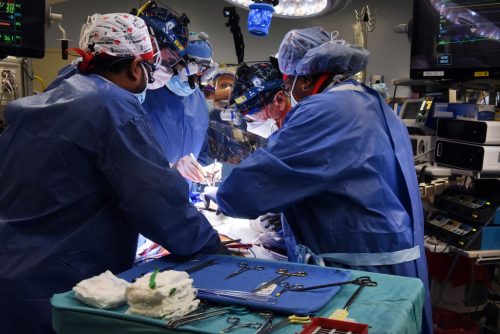 For years, scientists have tried to figure out how to transplant organs from other animals into humans. This is hard because the human body almost always rejects (doesn't accept) something that isn't its own. This even includes some transplants from humans. Scientists have tried transplanting organs from chimpanzees or baboons, but this didn't work very well.
More recently, scientists have focused on transplants from pigs. In many ways, pigs' bodies are similar to humans. It's fairly easy to raise pigs, and they grow quickly. It's now common for doctors to transplant pig heart valves to repair damaged human hearts. Heart valves open and close to help the heart pump blood.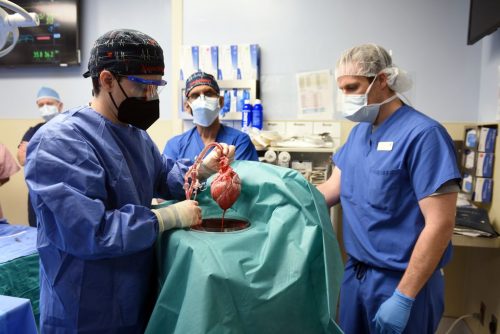 But there's a problem: pig organs contain a special chemical that causes human bodies to reject them. This time, to prevent that, scientists changed the pig's DNA so it wouldn't produce the chemical. Scientists made several other changes to the pig's DNA, and even added some things normally found in human DNA.
Muhammad M. Mohiuddin is one of the doctors who helped perform the surgery. He's been working for years to develop methods to help prevent pig organs from being rejected in humans.
Doctors are watching Mr. Bennett's recovery very carefully. But it's good news that his body has shown no signs of rejecting the heart. Often those kinds of problems show up in the first two days.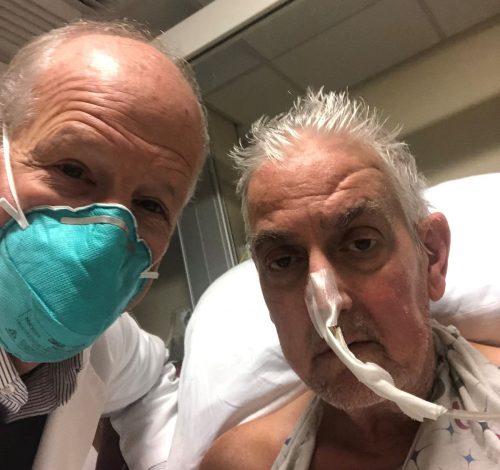 Even so, the surgery is still just an experiment. Experts say it will be a while before operations like this become normal. There are many things doctors and scientists need to figure out about how to help human bodies accept organs from other animals.
Still, the successful surgery has many people looking forward to a time when patients no longer die because there aren't any healthy organs for a transplant operation. For Mr. Bennett, who has been connected to machines to substitute for his heart and lungs for over six weeks, the new surgery is a life-saver.
---
Did You Know…?
In September of last year, a medical team at NYU Langone Health attached a special pig kidney to a human patient for the first time ever. Like Mr. Bennett's new heart, the pig kidney had had its DNA changed to keep if from being rejected.
😕
This map has not been loaded because of your cookie choices. To view the content, you can accept 'Non-necessary' cookies.