Ventanilla, Peru —(Map)
When a volcano in Tonga erupted on January 15, the effects were felt around the world. Peru – all the way across the Pacific Ocean – is now trying to clean up an oil spill caused by the eruption. The spill is killing animals and polluting the area.
The eruption of the volcano triggered tsunamis that crossed the ocean, causing unusual waves that were hard to predict.
The oil spill started when a large oil tanker was rocked by these unusual waves. The tanker was unloading crude oil at a refinery in La Ventanilla, Peru – about 19 miles (30 kilometers) north of the capital, Lima. The ship's owners said that an underwater oil pipe broke, releasing oil into the sea.
The refinery is owned by a Spanish company called Repsol. At first Repsol said it had stopped the leak quickly and that only seven gallons (26.5 liters) of oil had been spilled. But it turned out that Repsol did not stop the spill quickly. In all, about 6,000 barrels of oil were spilled. That's about 264,000 gallons (999,349 liters) of oil.
As a result of the oil spill, Peru has declared an "environmental emergency". The oil has spread out to cover about 2.75 square miles (7 square kilometers) of ocean. Oil washing up on the coast has forced the country to close 21 beaches.
The waters along Peru's coast are famous for the wildlife they support, including dolphins, otters, penguins, and cormorants. The spill is near two protected marine areas. Already, lots of animals, including fish, birds, and seals, have died as a result of the spill.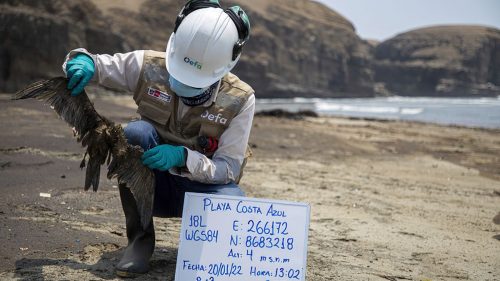 Nearby zoos are trying to clean the many oil-covered animals that have been brought in. Even birds that haven't been directly affected by the spill could wind up poisoned, if they eat smaller animals from oil-covered waters or beaches.
The oil spill has also put nearly 1,500 fishermen in the area out of a job. Many other people in the area, including those who work in tourist businesses, also depend on the sea for their living.
Peru is working hard to clean up the oil spill, but it's a huge job. The government has asked for help from other countries and international groups.
Repsol says it's working with the government to help with the cleanup. But the company claims it's not responsible for the spill because Peru didn't put out a warning about dangerous waves. In nearby Chile and Ecuador, the governments gave tsunami warnings. Peru's government has started an investigation into the spill and is threatening to charge Repsol with a $36.5 million fine.