After recent votes in Portugal and Italy, both countries still have the same leaders. In each case, the results were surprising, but for different reasons.
Socialists Remain in Power in Portugal
Portugal's Socialist party surprised many people with its strong win in Sunday's election. Prime Minister Antonio Costa called the snap election in November after two smaller parties refused to support his spending plan. Many recent polls had shown the Socialists losing votes to their main opposition, the Social Democrats (PSD).
But the Socialists won 117 seats in the country's 230-seat Parliament. That's nine more seats than they had before. It's also enough to form a government, without working with other parties to create a coalition. The PSD won 71 seats.
The far-right party Chega, which has more extreme positions, won 12 seats. That's a big increase. Chega only had one seat in the last Parliament.
Some people believe the extreme views of Chega may have encouraged people to vote for Mr. Costa's party. That's because the PSD is more likely to make deals with Chega than the Socialists are. Mr. Costa says that if he's asked to form a government, he won't be working with Chega.
Mr. Costa had led the country since 2015, and many people believe he has managed the country well. Businesses in the country seem to be doing slightly better in the last few years. In that same time period, the amount of money that the country owes has gone down.
Two days after his big win, Mr. Costa learned he had Covid-19. He's planning to isolate for the next week.
Italy's New President Is… Its Old President
Over the last week Italy's Parliament* held eight secret votes in an attempt to choose a new president. The problem was finally settled when Parliament agreed to re-elect the country's current president.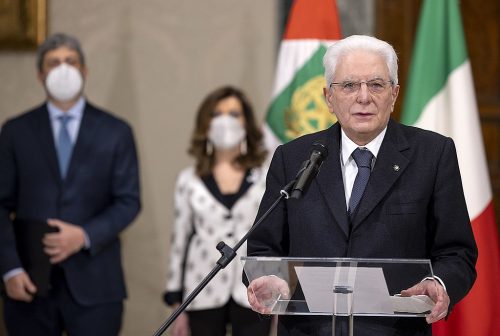 Italian President Sergio Mattarella was elected in 2015, and his term ends February 3. He's 80 years old and he had said that he didn't want to be president again. The position of president in Italy isn't very powerful, but it does have a few very important jobs. One of those jobs is choosing the prime minister.
In 2021, Mr. Mattarella chose Mario Draghi as prime minister. It was a very rocky period in Italian politics, and Italy faced several challenges, including the coronavirus pandemic. Most people believe Mr. Draghi has done a very good job of guiding the country through a difficult time.
Many people think Mr. Draghi would make a good president. But if Mr. Draghi became president, the country would need a new prime minister. And the process of forming a new government would probably cause a huge political fight. Since Italy's next elections are planned for February, 2023, most people want Mr. Draghi to stay on as prime minister until then.
But finding a candidate for president that everyone could agree on was nearly impossible. After voting secretly seven times, Parliament still couldn't agree.
On Saturday morning, Mr. Draghi met with Mr. Mattarella and talked him into staying. On Saturday night, Mr. Mattarella was re-elected president of Italy, earning 759 of the 1009 votes. "These conditions require one to not refuse the duty one is called for," Mr. Mattarella said.
---
Did You Know…?
This is only the second time an Italian president has been re-elected to the office.
* In addition to members of Parliament, people representing the different areas of Italy also took part in the voting.
(Front page images sources: Antonio Costa: Agência Lusa [CC BY 3.0], Sergio Mattarella: Quirinale.it [Attribution], both via Wikimedia Commons.)