Edinburgh, Scotland —(Map)
When Callum Isted saw plastic water bottles being thrown away at his school, he raised money to buy all the students reusable bottles. And he didn't stop there. Last week, he became the youngest person to bring a petition before Scotland's Parliament.
Callumn Isted is a 7-year-old who goes to Dedridge Primary School in Livingston, Scotland. When he sees a problem, he doesn't just ignore it – he tackles it.
Callum noticed lots of single-use plastic water bottles being thrown away at his school. On Monday through Thursday, the students drank out of reusable cups. But on Fridays, which are half days at his school, the students would be sent home with a bag lunch and a plastic bottle of water. Callum saw that most of those bottles were being tossed out.
So Callum came up with a plan. He raised money by walking from one Scottish coast to the other along the John Muir Way. That's 134 miles (216 kilometers) long. By the time he had finished, he had raised $1,850 (£1,400).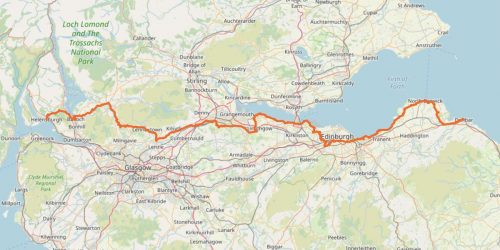 That was more than enough to buy a reusable water bottle for all of the 185 students at his school. "I felt very surprised that I had raised so much money," Callum told the Guardian. "I earned so much money that I was also able to get some for the adults in the school."
Callum's efforts earned him a "Learning for Sustainability" award from Education Scotland. He and his family were also invited to last year's important international climate meeting, COP26.
But Callum wasn't satisfied. He realized that the problem at his school was probably being repeated at schools all around Scotland.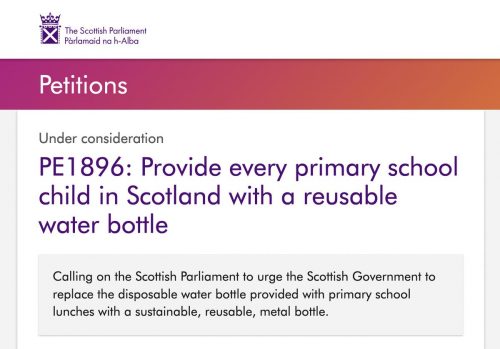 So he started a petition asking the Scottish government to supply all primary (elementary) school students with a reusable metal water bottle. Callum also wants the government to fix broken taps in schools to make it easier to refill water bottles. So far, 156 people have signed his petition.
Last Wednesday, Callum went before the group in Scotland's Parliament that handles petitions. Callum is the youngest person to ever present a petition to Scotland's Parliament.
He explained his concerns and why he thought it was important to stop using single-use plastic bottles. He also answered the questions that the MSPs (Ministers of Scottish Parliament) had for him.
Callum told the MSPs that single-use plastic bottles shouldn't be used "because animals could get injured or die." He also pointed out that "Humans could get ill if they eat fish that has eaten plastic. It's called microplastics."
Callum also got a chance to talk with the leader of Scotland's government, First Minister Nicola Sturgeon. Even before they met, Ms. Sturgeon had heard of Callum, and had praised his goal.
Callum clearly made a strong impression on the MSPs he spoke with. Jackson Carlaw, who led Parliament's petition group, told Callum that the MSPs would "see what we can do to put your petition into practice."