New Delhi, India —(Map)
India and Pakistan are struggling as they face an intense early heat wave. After the hottest March ever recorded, temperatures in late April again set records. The heat is causing health problems, and has led to fires, energy shortages, and damaged crops.
India and Pakistan almost always have high temperatures as spring turns into summer. Normally, the hottest month is May. This year, the heat started far earlier. In March, India had its hottest average temperature since it began keeping records 122 years ago.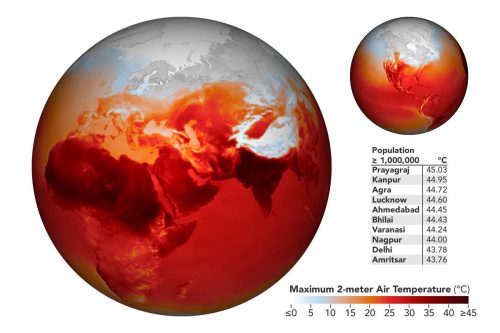 Last week many cities across India hit 113º Fahrenheit (F) (45º Celsius (C)). In one city, Prayagraj, temperatures reached 114.6°F (45.9°C). In parts of Pakistan, it was even hotter, reaching as high as 117ºF (47.2ºC).
The heat wave is affecting hundreds of millions of people across the two countries. The effects are especially serious for people in the area's tightly packed cities, where the heat is generally worse. In some areas, schools have been closed.
In an effort to keep cool, people are running fans and air-conditioning 24 hours a day. As a result, India is facing its biggest shortage of electricity in over six years. Many areas are being hit by power cuts.
For people who work outdoors, the problems are challenging. India has thousands of people who earn their living pulling people and things around on special bikes called rickshaws. These riders, along with construction workers and farmers, are struggling to keep working under the difficult conditions.
Air pollution remains a problem. And it's not just from India's coal-burning power plants. The dry conditions have led to an increase in fires. Last week, there were over 300 wildfires burning across India. A massive garbage dump near the capital, New Delhi, also caught on fire several times. The fire burned for days, sending thick, toxic smoke into the air.
The extreme weather has hurt India's wheat crop. Some farmers have lost 20% of their crops. There is a growing shortage of water, which is expected to hit farmers hard.
The effects of this may be felt worldwide. Many people thought wheat from India could help replace wheat crops lost because of Russia's war on Ukraine. Now India may not have much extra wheat to sell to foreign countries.
In the mountains of Pakistan, the early heat is expected to speed up the melting of ice and snow, which could trigger deadly flash floods.
Meteorologists say that temperatures should begin dropping on Monday. But May is still expected to be a hot month. Normally, the weather doesn't began to cool down until monsoon season begins in late May.
It's too early to say what part climate change has played in this heat wave. In general, climate change is expected to make such heat waves more common, longer, and more severe.
Mariam Zachariah, a scientist at Imperial College London, said that in the past, a heat wave like this might happen once every 50 years. "But now it is a much more common event," she says. "We can expect such high temperatures about once in every four years."