New Delhi, India —(Map)
Every year in late fall, heavy pollution makes the air in India's capital, New Delhi dangerous to breathe. New Delhi's government has closed schools for the week, and paused building activities. Now judges have told the city to call a pollution lockdown.
One way to measure air pollution is the US Air Quality Index (AQI). It goes from 0 to 500. Zero is "Good", 150 is "Unhealthy", and from 300 to 500 is "Hazardous" (dangerous). Last Friday, the air in New Delhi measured 470. Earlier last week, the AQI in some areas reached 999.
The air pollution, or "smog", holds dangerous chemicals, as well as billions of tiny bits of dust and pollution. These tiny "particles", which can be smaller than 1/30 of the width of a human hair, are especially dangerous.
Breathing brings these particles deep into the lungs, where they can cause many different sicknesses, from coughs, headaches, and sore throats to asthma, lung problems, and even cancer. A recent study reported that in 2019, air pollution killed about 1.67 million people in India.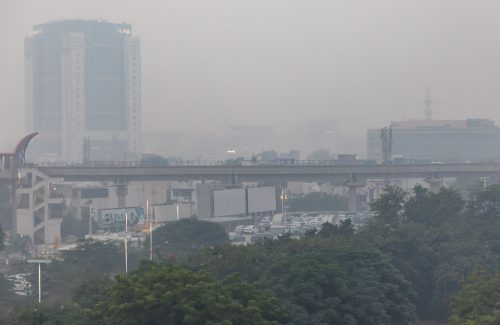 Delhi's smog problems are always worse in winter, when winds slow down and colder air sinks closer to the ground, bringing the smog down with it.
On Saturday, the government announced that schools would be closed this week. It also stopped building projects for four days. But on Monday, India's Supreme Court basically told the government to put Delhi into a lockdown.
The court said the government needed to stop all traffic in the area that wasn't essential. The judges also said offices in Delhi should be closed, meaning that tens of millions of people would need to work remotely again.
It's not clear when the lockdown might begin. Delhi's leader says a lockdown won't help much unless polluted areas nearby also go into lockdown.
Earlier this year, New Delhi built a $2 million "smog tower" with 40 giant fans. It was an experiment to see if filters could clean the air in a small area. It's not clear if the smog tower works, or whether more towers could clean a larger area. That's not likely, since the smog tower uses a lot of electricity, and most of India's electricity comes from coal.
The burning of highly-polluting coal is responsible for a large part of Delhi's smog problem to begin with. That won't change any time soon. At the recent UN climate meeting, COP26, India was responsible for changing the words of the agreement to talk about lowering coal use, rather than ending coal use completely.
Another cause of the pollution comes from farmers in nearby areas , who clear their land by burning the straw covering their fields. This has been banned, but farmers are still doing it. These fires create huge amounts of smoke, which wind up collecting in cities like New Delhi.
The country's Diwali (festival of lights) celebration also adds greatly to the pollution. Even though the city has banned the use of fireworks, the festival has long been celebrated with fireworks, and this year was no different. The worst AQI measurements this year came after Diwali.