This summer has brought extreme heat and droughts to places around the world. The droughts are leading to serious problems, including shortages of food and energy, problems with transportation, and price increases. The effects of the droughts are likely to be felt for years.
From Africa to Europe to the US to China, record temperatures and low rainfall have been causing problems. Droughts aren't new, but Earth's rising temperatures because of global warming are making them much harder to avoid.
The drought in the Horn of Africa may be the most serious situation. For several years, the area has had very little rain during the rainy seasons. Now the area, which includes Ethiopia, Kenya, and Somalia, is suffering from its worst drought in 40 years.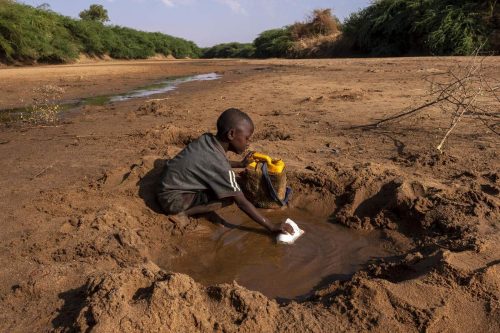 The dry conditions have killed millions of farm animals and destroyed the crops of farmers. The United Nations has warned that as many as 22 million people in the area are in danger of starving.
Almost two-thirds of Europe is threatened by what may be the worst drought there in 500 years. With temperatures reaching 104º Fahrenheit (F) (40º Celsius (C)) and hotter, many crops have been damaged. In France, Spain, Portugal, and even Britain, fire fighters have struggled to control wildfires.
The drought is causing energy problems in Europe, too. The low water levels have cut the amount of hydroelectric power that can be produced. Some rivers are so low that the heavy boats that carry coal can't travel on them.
In the US, many states that use water from the Colorado River are struggling with low water levels. The country's two largest reservoirs, Lake Mead and Lake Powell, are fed by the Colorado River. But they are at record low levels. The reservoirs are used to create hydroelectric energy. That could end if water levels drop farther.
Farmers in California and Arizona have been hit particularly hard. California has put limits on water use across the state. Now water is being limited in other places. When there are water limits, farmers aren't able to grow as many crops. That can drive up food prices, and that affects everyone.
China is facing similar problems. It has been gripped by a terrible drought this summer, with temperatures as high as 113ºF (45ºC). The drought has dried up much of the water in the Yangtze, China's longest river. That has cut the amount of energy produced by the world's largest dam by 40%.
China hasn't been able to produce enough energy, since millions of people are using electricity to keep cool. In Sichuan province, the government is closing factories down because there's not enough energy. The country is trying to make it rain by shooting chemicals into clouds. But this is an uncertain and temporary response.
There are no easy solutions for any of these droughts. It took years to create the climate crisis, and it will take a long time to get it under control. For now, governments and people will need to carefully manage water supplies and other resources to limit the damage as much as possible.