Aceredo, Spain —(Map)
In 1992, five villages in Galicia, Spain were flooded on purpose when a river was dammed up to create a large reservoir. Now, because of a drought, low levels of water have revealed much of one of those villages, rising out of the water like a ghost village.
A large dam was built across the Limia river in 1992. It was part of a big plan to build up a large body of water and use it to create hydroelectric power. The project was developed by the governments of Spain and Portugal, but the dam is owned and run by a Portuguese company.
But the Alto Lindoso Dam was also going to completely flood five villages in the area. Naturally, many of the people in the villages weren't too happy about the plan. But after more than half of them agreed to leave, the rest of the villagers were forced to join them. When the dam's gates were closed, the villages slowly disappeared under the water.
Like many places around the world, Galicia is struggling with a drought. As this long dry period has gone on and on, the level of water in the reservoir has been steadily dropping. The dam is now only about 15% full. Late last year, the ghostly outlines of Aceredo began to appear out of the water.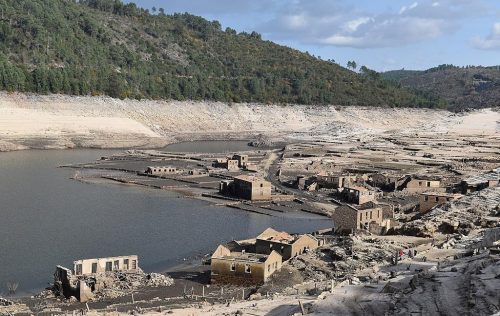 By November, parts of the village were dry enough for people to begin walking around in it again. They were shocked to find many things left exactly as they had been 30 years ago.
Many buildings are still standing, even if some of their roofs have fallen in. It's true that metal has rusted and wood has rotted away.
But in some places, there are still everyday items around, as if they had been left moments ago, instead of 30 years ago. There's even a water fountain that still has water coming out of it.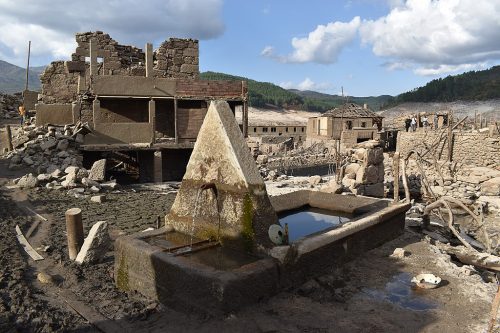 Some of the earliest visitors to Aceredo were people who used to live there long ago. Now, Aceredo has become a popular spot with tourists. It has become so popular that the company that owns the dam has asked the nearby towns to try to limit the number of tourists that go there.
But the lack of water has brought even bigger problems for the dam. On February 1, Portugal's government told the dam owners to stop using the water from the dam almost completely.
😕
This image has not been loaded because of your cookie choices. To view the content, you can accept 'Non-necessary' cookies.
😕
This map has not been loaded because of your cookie choices. To view the content, you can accept 'Non-necessary' cookies.