Over the last two weeks, North Korea has launched at least 10 test missiles. Though the missiles were fired as tests, the actions seem designed to upset Western countries. One of the missiles was fired over Japan, where it triggered warnings.
North Korea has been firing test missiles into the sea for many years. Though North Korea is a poor country, it has spent a lot of money and effort on its weapons. The country's leader, Kim Jong-un, has made threatening comments suggesting that North Korea could attack other countries like Japan or the United States.
North Korea is believed to be working to develop nuclear weapons. That's very worrying. Very few countries have nuclear weapons, and these countries work hard to keep them from spreading. They worry the weapons might be misused. The combination of nuclear weapons and long-range missiles could make North Korea a worldwide threat.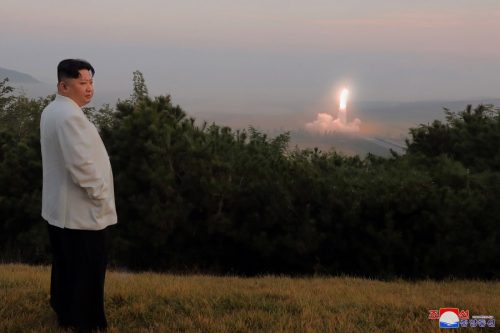 Donald Trump and North Korea
Between 2018 and early 2019, Ex-US President Donald Trump met with Mr. Kim several times. Mr. Trump thought he could convince Mr. Kim to drop his nuclear weapons program. But the last meeting between the two men ended suddenly without success.
Since then, the situation between North Korea and other countries has gotten worse. Though Mr. Kim promised in 2018 to end work on nuclear weapons, experts say the country has continued to develop these weapons. Some say they expect North Korea to test a nuclear weapon again sometime soon.
The United Nations (UN) has passed rules that make it illegal for North Korea to test most missiles. But the UN and outside countries are largely powerless to stop the missile testing.
😕
This image has not been loaded because of your cookie choices. To view the content, you can accept 'Non-necessary' cookies.
The US, South Korea, and Japan have often held military "exercises" in the area to remind North Korea of their military strength. The US and South Korea recently completed a large practice navy exercise, for example. But these actions haven't stopped North Korea's missile tests.
In fact, Mr. Kim says some of the recent missile tests are a response to these actions. But North Korea was already setting a record for missile tests this year. In recent weeks, the rate of testing has gone up sharply.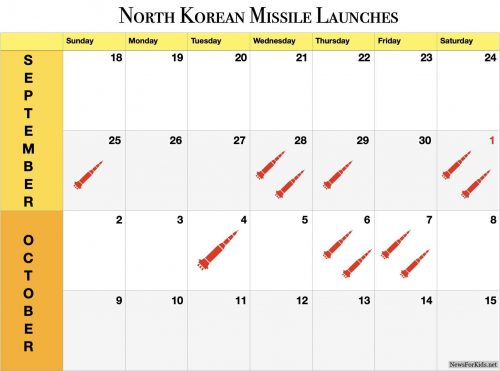 Last Tuesday, North Korea fired a missile over Japan without warning. The missile traveled 2,800 miles (4,500 kilometers) – farther than any other North Korean missile – and landed in the Pacific Ocean.
Firing a missile over another country is incredibly dangerous. The chances of an accident or misunderstanding are high. Japan's government put out warnings encouraging people to take cover. It was the first time North Korea had sent a missile over Japan since 2017.
It's not clear why North Korea is launching so many missiles now. Some experts say one reason is that Mr. Kim believes the West is currently distracted by Russia's war on Ukraine. It's also possible that bad weather kept North Korea from testing the missiles earlier.
😕
This image has not been loaded because of your cookie choices. To view the content, you can accept 'Non-necessary' cookies.
The US and other countries have used sanctions to try to force North Korea to give up its nuclear weapons program. The sanctions make it very hard for North Korea to buy the things it needs from other countries. But so far, sanctions haven't stopped North Korea from developing or testing its weapons.
In May, Western countries tried to get the UN to agree to stronger sanctions on North Korea. The move was blocked by Russia and China.
Many experts believe North Korea is trying to get the attention of Western countries. At the same time, it's trying to beat South Korea in a weapons "race". These experts say more – and perhaps bigger – tests are likely to follow.
Update: On Monday, North Korea announced that the recent missile launches were designed not just as tests, but to show that it could hit its enemies with nuclear weapons. Mr. Kim said the missile launches showed that North Korean forces were "completely ready to hit and destroy targets at any time from any location."