Iran Protests Continue Despite Government Crackdown
Four weeks after the death of a young woman who was being held by Iran's police, protests continue across Iran. The protests were triggered by the death of Mahsa Amini. Ms. Amini, 22, was arrested by Iran's "morality police" because of the way she was wearing her head scarf. Three days after she was arrested, she had died.
Hijabs in Iran
In Iran, women are expected to wear head scarves, known as hijabs. These hijabs are supposed to cover the head, neck, and hair, but usually leave the face uncovered. Ms. Amini was wearing a hijab when she was arrested, but reports say it didn't cover all of her hair.
😕
This image has not been loaded because of your cookie choices. To view the content, you can accept 'Non-necessary' cookies.
Iran's government has cracked down harshly on the protests, firing on crowds with real bullets. The violence has been especially intense in Kurdish areas of Iran, where Ms. Amini came from. At least 185 people are reported to have died. Hundreds of people have been injured, and thousands have been arrested. In spite of this, the protests have spread.
There are large protests roughly once a week, and smaller daily protests around the country. Many women and girls are going around without hijabs. Some teachers and other workers have stopped working in protest.
😕
This image has not been loaded because of your cookie choices. To view the content, you can accept 'Non-necessary' cookies.
Though women's rights are still a focus, protesters are also angry about living conditions in Iran. Many protesters want to get rid of Iran's religious government. Recently, workers in Iran's oil businesses held two strikes. Since oil is one of the most important sources of money for the country, the impact of a strike by oil workers could be serious.
NASA Says DART Mission Changed Asteroid's Path
On September 26, NASA's DART mission crashed a spacecraft into an asteroid on purpose. The goal of the mission was to test a method for changing the path of an asteroid. The knowledge could one day help protect Earth against an asteroid heading toward it.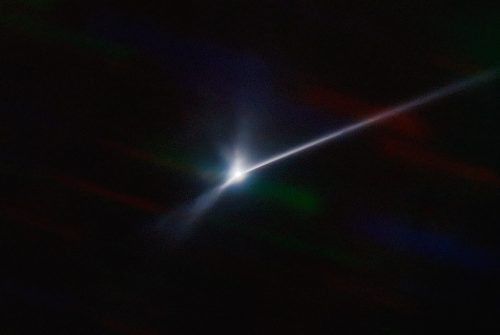 The refrigerator-sized DART spacecraft smashed successfully into an asteroid called Dimorphos. Dimorphos circles around a larger asteroid called Didymos as the two travel together through space. NASA was hoping to shove Dimorphos closer to Didymos, and shorten its orbit by about 10 minutes. DART's impact left a bright trail of debris roughly 6,200 miles (10,000 kilometers) long behind it.
Now NASA reports that DART succeeded in changing the asteroid's orbit – even more than expected. NASA says new measurements show that Dimorphos now orbits the larger asteroid about 32 minutes faster. NASA leader Bill Nelson said, "This mission shows that NASA is trying to be ready for whatever the universe throws at us."
New Record Set for America's Heaviest Pumpkin
On Monday, Travis Gienger set a new record for the heaviest pumpkin ever grown in North America. Mr. Gienger's monster pumpkin weighed 2,560 pounds (1,161 kilograms). The pumpkin took first prize in the Safeway World Championship Pumpkin Weigh-Off.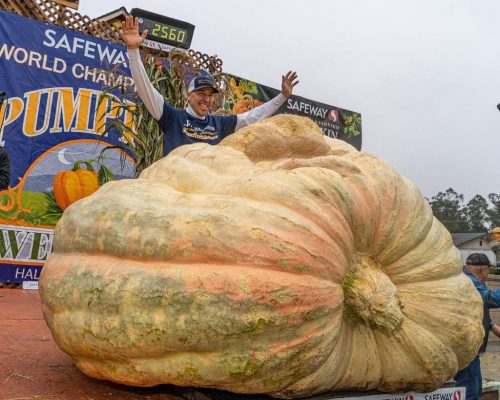 Mr. Gienger's win may not be that surprising. He's a teacher of horticulture (gardening) who's been growing large pumpkins since he was a teen. He won the same contest in 2020, but that year his prize winner weighed just 2,350 pounds (1,066 kilograms).
Though Mr. Gienger has set the North American record, his pumpkin is still a long way off from the world record. Guinness says that record was set by a 2,703-pound (1,226-kilogram) pumpkin grown in Italy in 2021. Mr. Gienger's winner this year was grown from a seed from that record pumpkin.
---
Did You Know…?
Mr. Gienger earned $9 a pound in prize money, which works out to $23,040. He'll also make a lot of money by selling the pumpkin's seeds. Currently, he sells seeds from his 2020 prize-winner for $175 each.