Sargasso Sea —(Map)
A massive raft of floating seaweed called sargassum is headed toward the coasts of Mexico and the southern United States. Sargassum rafts have been growing in size every year. When they land, they cause big problems.
Sargassum And the Sargasso Sea
Sargassum normally grows in the Sargasso Sea, a huge area in the Atlantic Ocean. The Sargasso Sea is surrounded by strong ocean currents, which generally keep the sargassum in place. The seaweed plays an important part in the Sargasso Sea, creating an environment where many marine animals can live and grow safely.
Since 2011, huge amounts of sargassum have been breaking loose every year and working their way to beaches in the Caribbean and along the Atlantic coast. As of March, there was so much floating seaweed this year that the "Great Atlantic Sargassum Belt" was 5,000 miles (8,000 kilometers) long and 300 miles (480 miles) wide.

The sargassum may look pretty in the middle of the ocean, but closer to land, it causes serious problems. Floating sargassum can almost completely block out sunlight, affecting plants and animals below. Important sea grasses and corals suffer when light is blocked by seaweed rafts.
As the sargassum piles up on beaches, it makes it hard for mother sea turtles to lay eggs, and nearly impossible for baby turtles to return to the sea.
So much sargassum piles up on beaches that removing it is a challenge. But if it remains, the seaweed breaks down slowly, releasing a smell like rotten eggs. It also releases a chemical which is dangerous for people to breathe.
Sargassum often makes the news when it affects popular tourist spots in the US or Mexico. But on some smaller Caribbean islands, which depend heavily on tourism and fishing, the seaweed invasion can have serious effects on the lives of everyone. Last year, a state of emergency was declared in the US Virgin Islands because of the sargassum.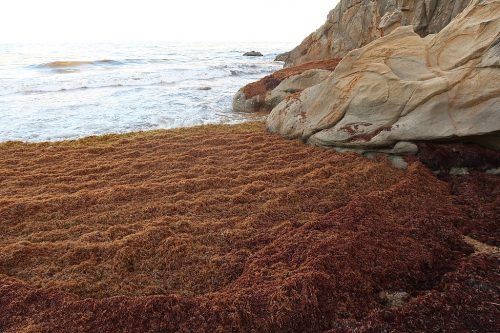 Removing piles of sargassum from beaches is difficult and expensive. Heavy machines can put turtle nests in danger. Even after governments clear the seaweed from beaches, they face the challenge of getting rid of it.
It's not easy. Some people have thought about using sargassum as a fertilizer or compost, but it contains toxic metals like arsenic. So far, removing these metals costs too much money to make it worth doing.
Why Is Sargassum Growing So Quickly?
Sargassum grows faster in warming oceans, so climate change is definitely part of the problem. But scientists believe the unusual growth of the seaweed is also caused by huge amounts of fertilizers washing into the oceans from farmlands.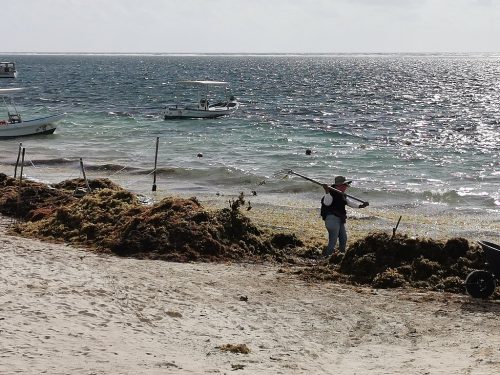 Scientists and students are working hard to figure out how to deal with sargassum. Some ideas for using sargassum include using it as a building material, or possibly a fuel.
One unusual solution is to sink the sargassum deep in the sea using robots. Sargassum takes in huge amounts of carbon dioxide as it grows. Removing carbon dioxide from the atmosphere is one important part of fighting the climate crisis. Sinking the sargassum deep in the ocean could bury this carbon dioxide for hundreds of years. Scientists are still testing this idea to see if it will work.
For now, scientists say the quickest solution is to stop filling the ocean with fertilizers. But it may be hard to convince farmers far away from the oceans to change the way they farm in order to solve a problem they may never see.
---
Did You Know…?
Scientists can study and track sargassum – even from space. But it's very hard to predict exactly when and where the seaweed will hit land. Still, many beaches in the Caribbean and on the Atlantic coasts of Mexico and the southern US are expected to get huge amounts of sargassum over the next few months.
😕
This map has not been loaded because of your cookie choices. To view the content, you can accept 'Non-necessary' cookies.