Khartoum, Sudan —(Map)
A three-day ceasefire to the fighting in Sudan was announced on Monday. The fighting, which broke out on April 15, has left thousands of people injured and several hundred dead. Previous efforts at a ceasefire have failed.
In 2019, massive protests led to Sudan's harsh leader, Omar al-Bashir, being removed as president after 30 years. Even after Mr. al-Bashir was removed, the protests continued until the country's military agreed to share power with civilian leaders.
Army General Abdel Fattah al-Burhan was key in removing al-Bashir, and was part of the power-sharing agreement with civilians. But in 2021, General al-Burhan took control of the country in a coup.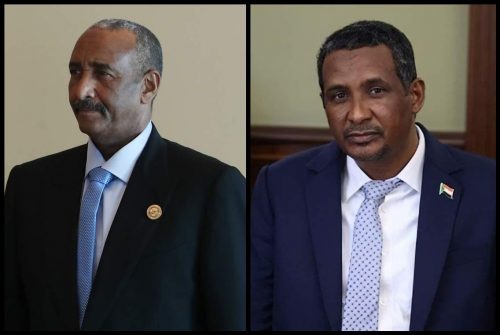 General Mohamed Hamdan joined General al-Burhan in taking control of the government in 2019. General Hamdan leads the Rapid Support Forces (RSF). The RSF is a military group with a brutal history, but it isn't officially part of Sudan's armed forces. The two men became the country's top leaders.
Recently, the two men have been arguing. The main concern was whether the RSF would join Sudan's armed forces and come under the control of General al-Burhan.
On April 15, RSF soldiers attacked important army bases and government buildings. Soon there was major fighting across the country, with soldiers from Sudan's army battling soldiers from the RSF. The fighting was especially heavy in the capital, Khartoum, and in an area called Darfur. Many experts worry that the fighting could lead to a civil war, or spread to other countries.
The violence has left Sudan's civilians trapped in the middle. People have been told to remain in their homes and not go out. This has been going on for days, and many people are low on food, water, and medicine.
Over 420 people have been killed in the violence. At least 264 of these were civilians. More than 3,700 people have been injured. Most experts believe the numbers of people killed or injured are far higher than this. Sudan's hospitals can't keep up.
Last Friday was a special Muslim holiday called Eid al-Fitr. There were calls for a ceasefire, and both sides agreed to stop fighting. But neither side kept their word, and the fighting became even more intense.
This weekend, many outside countries organized special efforts to get their diplomats out of Sudan. Many people are leaving the country by road, since it's too dangerous to use the airport in Khartoum.
A New Ceasefire
On Monday US Secretary of State Anthony Blinken reported that both sides had agreed to a new ceasefire. The pause in fighting was supposed to begin at midnight on Monday and last for at least three days. Mr. Blinken said the US would work with both sides and with civilian leaders to try to reach a more permanent peace.
It's too early to tell if the ceasefire will hold. But if it holds for even a little while, it could allow aid groups to bring in much-needed supplies of food and medicine. It could also provide time for civilians to find safer locations and for people from other countries to safely leave Sudan.