Bristol, Vermont —(Map)
Ethan Sonneborn is running for governor of Vermont. He's one of four Democrats that voters will choose from in Tuesday's primary election. What sets Ethan apart from the other people running is that he's only 14 years old.
In Vermont's primary election on Tuesday, voters will choose which person from each political party will be in the final election. There are four Democrats running for governor, and Ethan is one of them.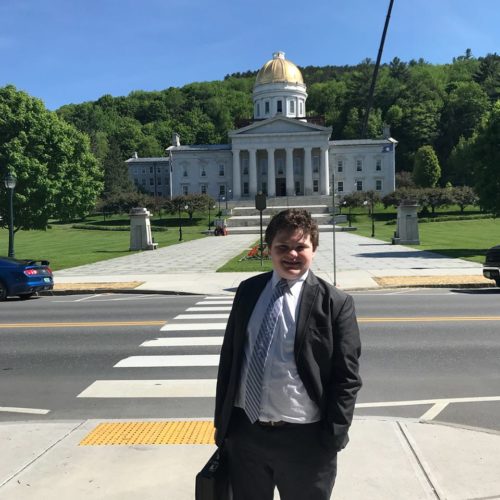 In Vermont, you have to be 18 to vote. But Vermont's laws do not say anything about the age someone must be to run for governor. They just say you must have been living in the state for at least 4 years. Ethan has lived in Vermont for 14 years.
Ethan first decided to run for governor a year ago. He actually told the world about it before he told his parents. But when his parents agreed that he could run, the state of Vermont also agreed.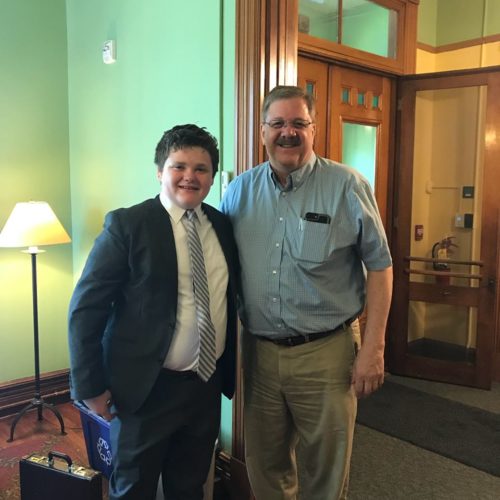 But to get his name put on the ballot (the sheet that voters mark their choices on), he had to get over 500 people to agree that his name should be there. On May 31, Ethan turned in the papers he needed.
Ethan is not the only teenager on the ballot in Vermont this election. 16-year-old Finnian Boardman Abbey is running for state Senate.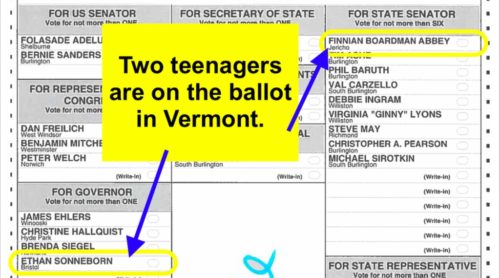 Politics have interested Ethan since he was young. His mother says he talked with his kindergarten teacher about being president. Ethan has just finished the 8th grade, but since school ended, his summer days have been very different from most kids his age.
He has been talking with reporters from CNN and the Washington Post. He's been visiting different areas in the state and talking with voters. He's even taken part in debates on radio and TV, discussing his ideas with three other people running for governor.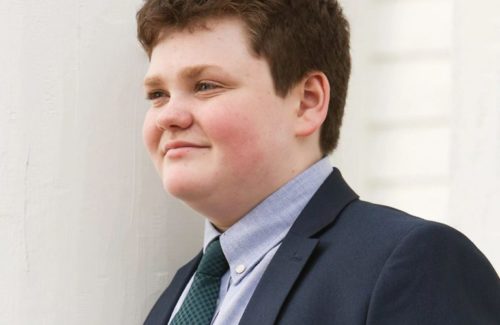 Ethan refuses to let people treat him like he's not serious or that he's "just a child". James Ehlers, who is running for governor against Ethan, asked whether Ethan would serve him "as an advisor on youth & education issues". Ethan replied, "Absolutely. If you'd be willing to serve as an advisor to me on clean water."
Ethan is very active on social media , giving praise to people he supports and pointing out problems where he sees them.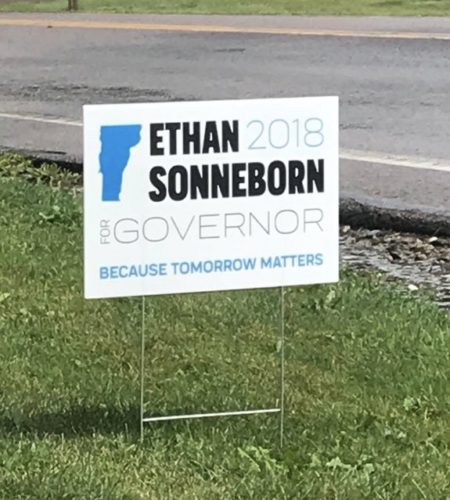 Ethan is eager to get his message across to young people. "You've got to get involved, you've got to vote, you've got to knock on doors. It's how we're going to make the changes we want to see in the state, in this country, in this world," he says.
Whether he wins or loses, Ethan is already making some of the changes he wants to see happen.
😕
This map has not been loaded because of your cookie choices. To view the content, you can accept 'Non-necessary' cookies.