The new coronavirus disease continues to spread around the world. As the number of new cases in China is dropping, the number of cases in other countries is rising, sometimes quite suddenly.
COVID-19 is the name given to a new coronavirus disease that began in Wuhan, China in December. There have now been 89,071 cases, and 3,039 deaths worldwide.
Though most cases of the virus have been in China, the disease has now spread to more than 60 countries. Only recently has the number of new cases outside of China become larger than the number of new cases inside China.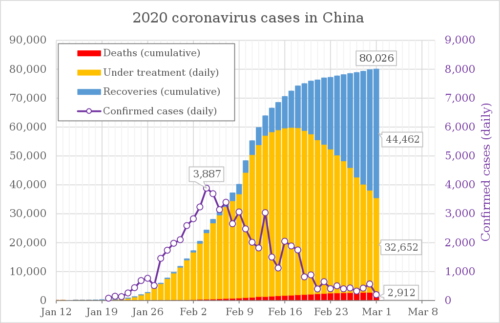 The rate of new cases is slowing down in China. Two weeks ago, there were thousands of new cases every day. Recently there have only been a few hundred. Chinese businesses and factories are trying to get going again, after many have been shut down for weeks.
Outside of China, the largest number of cases is in South Korea. Over 4,200 cases have been reported and 22 people have died. The South Korean government has encouraged everyone to stay home.

| Country | Cases | Deaths |
| --- | --- | --- |
| Mainland China | 80,026 | 2,912 |
| South Korea | 4,212 | 22 |
| Italy | 1,694 | 34 |
| Iran | 978 | 54 |
| Japan | 256 | 6 |
| France | 130 | 2 |
| Germany | 130 | 0 |
| Singapore | 106 | 0 |
| US | 87 | 2 |
| UK | 36 | 0 |
| Australia | 29 | 1 |
Italy is another country that's had a sudden explosion of cases of COVID-19. The country has had 1,694 cases and 34 deaths. Several areas around the country have been shut down. People in those areas have been told to stay at home and are not allowed to travel.
Iran has also had a serious coronavirus outbreak. Iran has reported 978 cases and 54 deaths so far, but the country could have thousands of people who still need to be tested.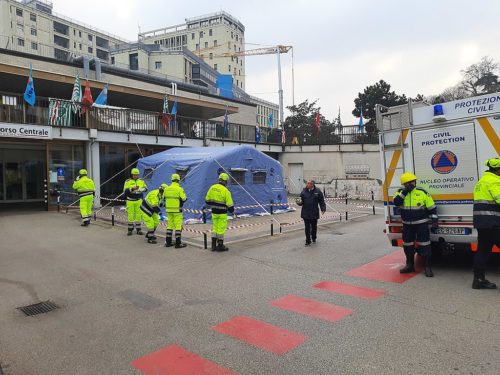 Around the world, large meetings and other public gatherings like sports events and concerts are being canceled. Many countries are limiting travel to and from the countries most affected by the virus.
In Japan, which has 256 cases and six deaths, the government has closed all schools until late March. Japan is expected to hold the 2020 Olympics this summer, but many people wonder if this will still be possible.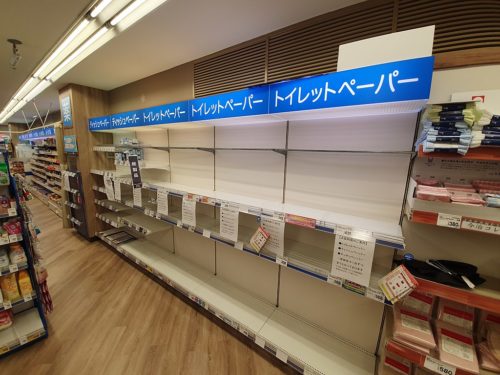 Millions of Muslims who had hoped to visit the holy site Mecca during Ramadan this year are having to change their travel plans. Saudi Arabia has closed Mecca and other holy sites to foreign visitors.
In the US, the number of cases has grown to 87, with two deaths reported. President Donald Trump has put Vice-President Mike Pence in charge of a special group organized to deal with the coronavirus.
Australia, which has had 29 cases and one death, has begun a special emergency plan for dealing with the disease.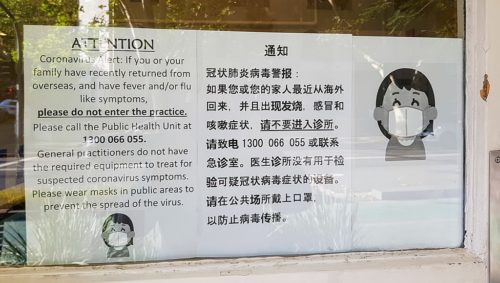 Health workers in areas where the disease hasn't yet hit strongly are busily trying to prepare for the disease. Hospitals are adding more beds, doctors are being trained in special methods for dealing with COVID-19 patients, and health experts are trying to teach people how to keep themselves safe.
One thing that's worrying doctors now is that people may have the disease, without showing signs of it. If people with no symptoms can spread the disease, it could make it very hard to get a good idea of how many cases there actually are.

---
Did You Know…?
Though COVID-19 is a very important illness that needs to be taken seriously, it is making the news mainly because it is so new and unknown. Well-known diseases like the flu or measles still affect (and kill) far more people.