Macquarie Heads, Tasmania, Australia —(Map)
Around 270 pilot whales were stranded after swimming into shallow water off the island of Tasmania in Australia. This is the largest whale-stranding event in years. People are working hard to save the whales, but at least 90 have died.
Every year, around 2,000 large sea animals, such as dolphins and whales, die by swimming onto a beach or into water that's too shallow for them to escape. This is known as "stranding" or "beaching". Pilot whales and killer whales are some of the most commonly stranded whales.
The current stranding is the largest in Tasmania since 1935. The whales were discovered on Monday in three different groups – two groups of about 30 and one group of over 200.
Rescue workers are trying to "refloat" the whales so they can swim away. The job is especially challenging because the whales are so large. Pilot whales can grow up to 23 feet (seven meters) long and can weigh up to 5,000 pounds (2,300 kilograms).
To refloat the whales, they are moved onto a sling, which allows the rescuers to drag the whales to deeper water. Many of the whales stranded in Tasmania are in areas that are hard to reach, so it's hard to get to them with a sling.
Rescuers are focusing on the easiest cases first. "We will take the animals with the best chance to start with," says Dr. Kris Carlyon, who's working with the rescuers.
About 40 workers from Tasmania's Department of Primary Industries, Parks, Water and Environment are handling the work, along with roughly 20 experienced volunteers.
So far, around 25 animals have been rescued. Since the rescued whales are likely to return to the place where others are in trouble, workers are trying to make sure that rescued whales don't get stranded again.
Dr. Carlyon says the cool, wet weather has helped keep the whales alive. He describes the weather as "pretty ugly out there for people on the ground, but as far as the whales go, it's ideal [perfect]."
Still, about 90 whales have died so far. Rescue efforts are likely to continue for the next few days.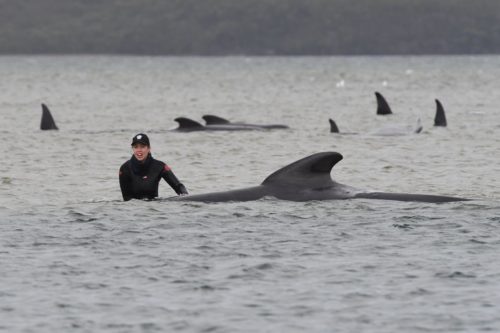 Scientists don't fully understand why beachings happen, but they have some ideas. It's possible that the animals lose their way when they are swimming quickly and focusing on something else, like chasing fish or trying to escape while being chased.
Whales and dolphins travel together in groups called "pods". These pods work together closely, and the members of the pod generally follow the leader. When the leader gets beached, it can lead to other animals getting stranded as well.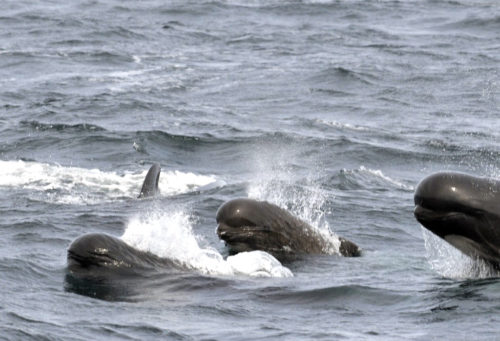 It's known that a single animal may beach itself if it's sick or injured. It's possible that when groups of whales get stranded, they may be following, or trying to protect, an animal that's unwell.
Beachings happen often on the shores of Australia and New Zealand because whales travel along the coasts as part of their normal migration patterns. In 2018, for example, hundreds of whales died in several different beaching events in New Zealand.