In many places around the world, people are protesting the actions of their governments. Today, NFK looks at the way the governments of Russia and Thailand are trying to bring these protesters under control.
Russia
On January 17, Alexei Navalny returned to Russia knowing that he would be sent to jail. Mr. Navalny is the strongest opponent of Russian President Vladimir Putin.
In August, Mr. Navalny was flown to Germany for emergency medical treatment after being poisoned. Russia's government is believed to be behind Mr. Navalny's poisoning, but that didn't stop Mr. Navalny from returning home.
Russian police met Mr. Navalny at the airport, and he was soon sent to jail for 30 days. Mr. Navalny asked people to protest last weekend, saying, "Don't do it for me, do it for yourselves and your future."
On Saturday, tens of thousands of people turned out to protest in over 100 cities across Russia – far more than most people expected. In the capital, Moscow, about 40,000 people came out to support Mr. Navalny.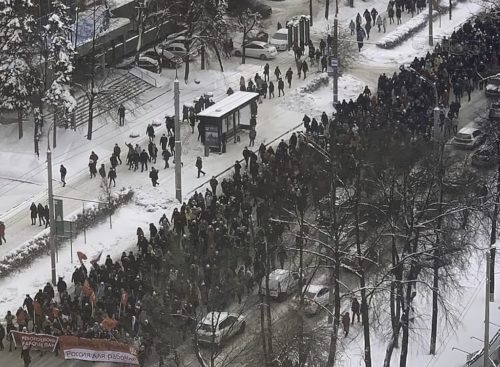 Over 3,500 people were arrested. In many cities, police violently broke up the protests. Mr. Putin's government has called the protests dangerous and illegal. Many people expect that Mr. Navalny will now be sent to jail for several years.
The United States and the European Union have said that Mr. Putin should release Mr. Navalny and the other protesters. Mr. Navalny's supporters are calling for new protests next Sunday.
Thailand
Last summer, tens of thousands of people began protesting in Thailand. The protesters, mainly students and young people, wanted the prime minister to resign, and they demanded changes to the country's constitution.
The protesters also wanted to change the way the monarchy – the Thai royal family – was treated. The monarchy is very important in Thailand. Anyone who insults the king can be sent to jail for a long time.
As the protests went on, the protesters became more upset and more daring. At times they insulted the king openly. Many protesters were arrested. But since 2016, the government hasn't been using the full power of the laws that protect Thailand's royalty.
Now that has changed.
Last week, a court in Thailand sentenced a woman to prison for 43.5 years for sharing audio recordings that appeared to criticize the king. That's the longest sentence ever given in Thailand. In another case, a writer was sentenced to 4.5 years in jail for criticizing the king on Facebook.
Both of those cases are old ones, going back several years, to when Thailand had a different king. But at least 46 people – many of them students – have now been charged under the same laws.
Last Wednesday, the government announced that it would also use the law against Thanathorn Juangroongruangkit, a popular opposition politician. Mr. Thanathorn was forced from parliament last year after his political party was ended by a Thai court.
Mr. Thanathorn is being charged because he questioned the government's plan to use a drug company owned by the king to create coronavirus vaccines for the country.
Experts believe that there will soon be many more cases of people given severe sentences for insulting the king.