Much of the United States is locked in the grip of an unusually large and extremely cold winter storm. The storm has brought bad weather, super-cold temperatures, power cuts, and transportation problems. About half of all Americans are affected.
Extremely cold air from the Arctic has sent temperatures dropping quickly across the country, from coast to coast and as far south as southern Texas. In many areas, ice and snow storms have added to the challenges. Only a few areas in the south have avoided the freezing weather pattern.
😕
This image has not been loaded because of your cookie choices. To view the content, you can accept 'Non-necessary' cookies.
The National Weather Service (NWS) says that a winter storm this large and this serious has almost never been seen before. The NWS reports that over 150 million Americans were under winter storm warnings of some kind.
In at least eight states, including Virginia, Oregon, and North Carolina, the bad weather brought power failures, leaving hundreds of thousands of people without electricity. In Texas, over 2.7 million people were left without power on Monday.
Texas isn't used to such serious winter weather. In Houston, temperatures have dropped to 16º Fahrenheit (F) (-9º Celsius (C)). The storm has led to huge, deadly highway accidents, and has forced major airports to cancel flights.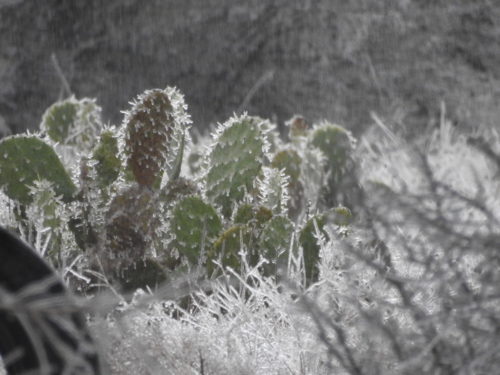 On Sunday, President Joe Biden declared an emergency in Texas, allowing the state to get more help from the US government. Several other states, including Alabama, Kansas, Kentucky, Mississippi , Oklahoma, and Oregon, have declared some sort of weather-related emergency.
In the Northwest, Washington and Oregon were hit with heavy snow and ice, with some places getting over a foot of snow. Emergency workers were kept busy dealing with traffic accidents caused by the icy roads.
Freezing rain covered power lines and trees with ice in Oregon, bringing down over 1,200 power lines, and leaving more than 300,000 people without power.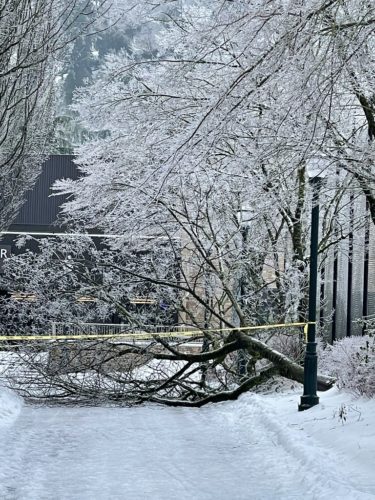 Even without the ice and snow, the extreme cold in western states created dangerous conditions, especially for homeless people. In Washington and Oregon, warming shelters were opened to help people stay warm and safe.
The NWS says cold air from the Arctic is behind the record-breaking low temperatures. Though it may seem surprising, global warming may be one of the causes.
A strong wind known as the jet stream usually flows in a circle around the Arctic, keeping super-cold air near the North Pole. But as the jet stream weakens because of climate change, the cold air is able to escape the Arctic and bring freezing temperatures to places that are normally much warmer.
😕
This image has not been loaded because of your cookie choices. To view the content, you can accept 'Non-necessary' cookies.
The rough weather is far from over. The NWS is predicting more snow and freezing rain over the next few days as a new storm cuts up toward the Northeast from the middle of the country.
The NWS says that much of the country will continue to have extremely cold temperatures, and it's likely that hundreds of cold-weather records will be broken. Temperatures in areas like Kansas, Oklahoma, and Texas could be 25º to 45º F (14º to 25º C) lower than normal.
---
Did You Know…?
Even though Minnesota is already known for its cold winters, it's still likely to set some new records this year. On February 13, a temperature of -50º F (-45.6º C) was recorded near Ely, Minnesota. That's believed to be a new record low.