Eric Carle, the author and artist behind "The Very Hungry Caterpillar" and dozens of other children's books, has passed away at the age of 91. Mr. Carle's lively, creative, and colorful work was loved by children around the world.
Mr. Carle was the author or illustrator of over 70 books for children, including "The Grouchy Ladybug", "The Mixed-Up Chameleon", and "Papa, Please Get the Moon for Me". Mr. Carle and his books have won many awards, including the Laura Ingalls Wilder Award.
"The Very Hungry Caterpillar" was Mr. Carle's best-known book. It was published in 1969. Since then, over 55 million copies of the book have been sold, and it has been translated into more than 70 different languages.
Mr. Carle was born in Syracuse, New York in 1929. His parents were German. As he was growing up, Mr. Carle spent a lot of time with his father, who would take him out walking in nature. His father would show him small creatures, explaining their life cycles and filling the young boy's head with wonder.
Mr. Carle thinks this helps explain why so many of his books are about nature. Many are about bugs like crickets, fireflies, ladybugs, and butterflies. Others are about animals, like foxes, squirrels, kangaroos, and bears.
When Mr. Carle was 6, the family moved back to Germany because his mother missed her home. Life in Germany was incredibly sad and difficult for Mr. Carle and his family during World War II. After the war, Mr. Carle studied art in school.
In 1952, Mr. Carle moved back to New York, where he got a job as an artist at the New York Times. After author Bill Martin, Jr. saw a drawing of a lobster that Mr. Carle had done, he asked Mr. Carle to illustrate his book, "Brown Bear, Brown Bear, What Do You See?". The book came out in 1967 and was a big hit.
Mr. Carle continued to work with Mr. Martin for years. Though he also created pictures for books with other authors, he created many of his most well-loved books completely on his own.
Most of Mr. Carle's books are meant for younger readers. He said that he wanted to help make school a fun, welcoming place. "I believe that children are naturally creative and eager to learn," he said. "I want to show them that learning is really both fascinating and fun."
Children around the world responded to Mr. Carle's work, and Mr. Carle responded to this enthusiasm. Mr. Carle worked hard to reach out to students and teachers. He talked freely about how he created his art, and he encouraged kids to create their own.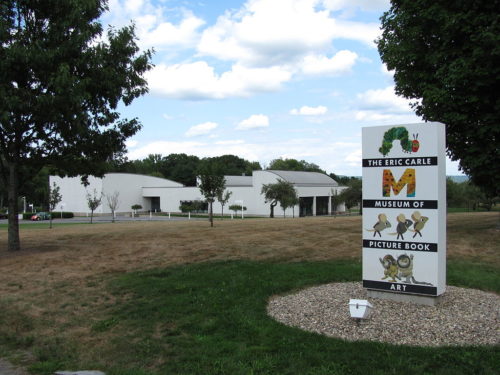 In 2002, Mr. Carle and his wife opened the Eric Carle Museum of Picture Book Art. The museum shows off picture books from around the world. It also puts on many art programs for students and teachers.
Mr. Carle will be missed, but his creative art and sweet, funny stories will continue to bring joy to very eager readers all around the world.
---
Did You Know…?
Mr. Carle got as many as 10,000 letters from his young fans every year.
(Front page image source: Eric Carle at the Los Angeles Times Festival of Books in 2009. By Fred Rockwood [CC BY-SA 2.0], via Wikimedia Commons.)