Changing Leaders Around the World
Peru
On Wednesday, ex-teacher Pedro Castillo was sworn in as president of Peru. Mr. Castillo won a run-off election in June. But the results were very close, and the election has divided the country. Mr. Castillo isn't a politician, and he'll face big challenges in working with Congress to reach his goals for helping poor people.
Samoa
Samoa's Fiame Naomi Mata'afa finally took office on Tuesday, giving the country its first female prime minister. Ms. Mata'afa's political party won control of the country's Parliament in April's election. But long-time prime minister Tuilaepa Sailele Malielegaoi refused to step down. A high court ruling last week cleared the way for Ms. Mata'afa. She held her first Cabinet meeting on Tuesday.
Tunisia
Tunisia's president, Kais Saied, took control of the country on Sunday, dismissing the prime minister and suspending Parliament. The move came after protests against the government. Ennahda, an important political party in Parliament, called the move "a coup". Mr. Saied says he's following the rules of the country's constitution. Tunisia has only been a democracy for 10 years. Many people are worried that Mr. Saied's actions are the end of that democracy.
Teenagers Take Gold in Tokyo Olympics
The Tokyo Olympics opened last Friday, and young people have been earning lots of medals. Below is a look at teenagers who have won gold medals for their efforts.
In swimming, US athlete Lydia Jacoby (17) won the 100-meter breaststroke event. Ahmed Hafnaoui (18) of Tunisia won the 400-meter freestyle contest. Australian swimmers Mollie O'Callaghan (17) and Meg Harris (19) helped their team win the women's 4 × 100 meter freestyle relay. England's Matthew Richards (18) helped his team take home the gold in the 4 x 200 meter freestyle relay.
The gold medal for 10-meter synchronized diving went to Chen Yuxi (16) and Zhang Jiaqi (17) of China. Kim Je-deok (17) of South Korea won two gold medals in archery – best men's team and best mixed team.
Japan's Daiki Hashimoto (19) was the all-around champion in men's artistic gymnastics. Viktoria Listunova (16) and Vladislava Urazova (16) of Russia helped their women's team win in artistic gymnastics.
In taekwondo, Ulugbek Rashitov (19) of Uzbekistan won in the men's 68 kilogram group. Anastasija Zolotic (18) became the first American to take gold in taekwondo by winning the women's 49 kilogram event.
Japan's Momiji Nishiya (13) won in street style skateboarding.
Ocean Trip on Giant "Hamster Wheel" Ends Early
Reza Baluchi is an athlete who often works to raise money for charity. He's even run across America. But last Saturday, things just didn't work out. Mr. Baluchi was trying to run from Florida to New York – on the Atlantic Ocean.
Mr. Baluchi has built a device that looks a lot like the wheel in a hamster's cage. He calls it a "hydro pod". It's designed to allow him to run on water.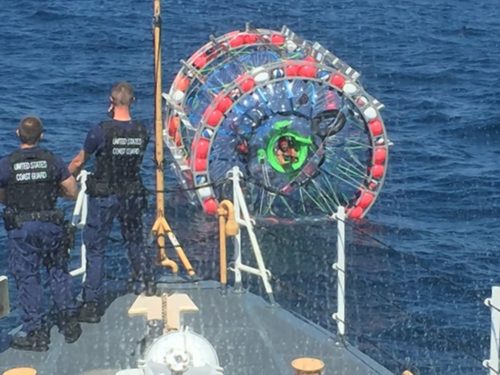 Mr. Baluchi planned to make the 1,000-mile (1,600-kilometer) trip in about three weeks. But he had to cut the trip short after covering about 25 miles (40 kilometers) because he was missing the charging cables for his phone and GPS devices.
The Coast Guard has now told Mr. Baluchi he can't continue his trip without a support boat to go along with him.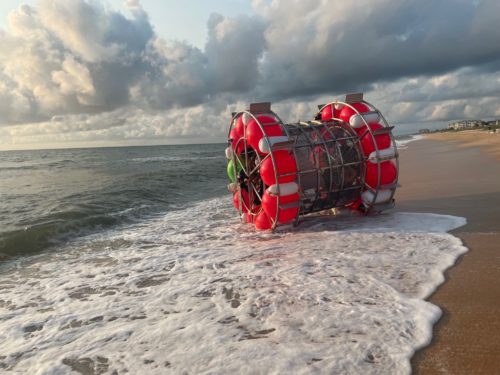 ---
Did You Know…?
This was the first year skateboarding was part of the Olympics, and all three of the winners in the women's street event were teenagers (see picture above). Japan's Momiji Nishiya (13) won gold, the silver was won by Rayssa Leal (13) of Brazil, and the bronze was won by Funa Nakayama (16) of Japan. Momiji is Japan's youngest gold medal winner ever.