Calls for Boris Johnson to Resign Over Rule-Breaking Party
Many people in the United Kingdom (UK) are calling on Prime Minister Boris Johnson to step down. On Wednesday, Mr. Johnson admitted that he had broken his government's own coronavirus rules by going to a party when the country was in lockdown in May, 2020.
Though Mr. Johnson said he was sorry, many people are very upset about the party, which happened when many people in the UK were suffering and even dying from Covid-19. Others in the UK had to pay fines for going to similar parties around the same time. The event is being investigated, but it's possible that Mr. Johnson went to more than one party.
Mr. Johnson may be in even bigger trouble for telling lies about the parties in public and to Parliament. In December, Mr. Johnson said in Parliament that "…there was no party and that no Covid rules were broken."
Many of those encouraging Mr. Johnson to resign are from other political parties, but several members of his own Conservative party have criticized his behavior. Others may be waiting for the results of the investigation to make a decision.
Georgia Beats Alabama, Wins First Championship in 41 Years
Georgia defeated Alabama 33-18 on Monday night to win the College Football Playoff Championship. It's the first time the Georgia Bulldogs have won a national title since 1980. It was especially sweet for Georgia to beat the #1 ranked Alabama Crimson Tide. The two are long-time rivals, and the last time Georgia beat Alabama was in 2007.
Despite an early lost ball, it turned out to be a great night for Georgia quarterback Stetson Bennett. With a little over eight minutes left in the game, he threw a 40-yard touchdown pass, giving the Bulldogs the lead 19-18. Another short pass a few minutes later put Georgia up 26-18.
The Bulldogs knew it was time to celebrate when Kelee Ringo grabbed an Alabama pass that fell short. He ran the ball 79 yards for a touchdown, bringing the score to 33-18.
Potato Shortage Means Small Fries in Japan
A lack of potatoes has led to a french fry (chip) shortage in Japan. Though the world is struggling now with the supplies of many materials, french fries might not be one you'd expect. But McDonald's has announced that because of trouble getting potatoes from Canada, its restaurants in Japan will only be offering small servings of french fries.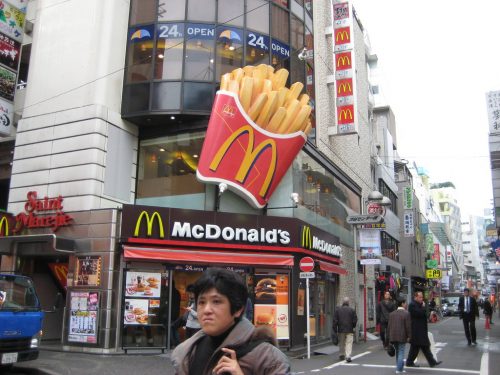 The company did the same thing last month after floods in Canada delayed shipments of potatoes. McDonald's considered flying in frozen potatoes, but had to give up even that idea after recent heavy snows in Canada. Instead, it says it will only sell its fries in the small size for the next month or so.
KFC chicken restaurants in Kenya ran into similar problems recently. The restaurants had to stop selling chips as a result of problems with this year's potato crop in South Africa.
---
Did You Know…?
KFC restaurants in Australia have an even bigger problem for a restaurant focused on chicken – not enough chicken. The current lack of chicken meat in Australia is the result of a shortage of workers because of the coronavirus.