Kyiv, Ukraine —(Map)
Russia has launched a full invasion of Ukraine. The attack began early on Thursday as Russian President Vladimir Putin announced a "special military operation". The US and NATO countries have condemned the attack and promised to increase sanctions on Russia.
Mr. Putin announced the attack early Thursday. He said his goal was to take away Ukraine's military abilities.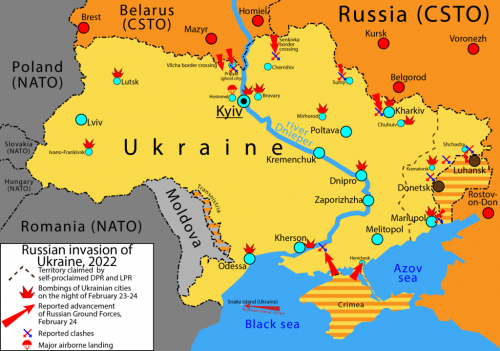 Mr. Putin used the rebel-held areas of Donetsk and Luhansk as an excuse for the attack, but his target is clearly the whole country. At least 10 different areas in Ukraine came under attack almost right away. Russian soldiers with military equipment began entering the country from the north, east, and south.
Ukraine's Foreign Minister Dmytro Kuleba called it a "full-scale invasion of Ukraine". It is the first full war between two countries in Europe since World War II.
Ukraine is fighting back. In some areas, it is holding off Russian soldiers. Already, Ukraine reports that 40 soldiers and 10 civilians have been killed. Across Ukraine, people are rushing to get emergency supplies. Thousands are crowding roads and highways in Kyiv, heading west, trying to get away from Russian attackers.
Ukraine's government believes Russia wants to remove Ukraine's current leaders and set up a government that is friendly to Russia. Ukraine President Volodymyr Zelensky has asked outside countries to help. He warns that if Russia isn't stopped, "war will come knocking at your door tomorrow."
World leaders have condemned the attack. US President Joe Biden said, "Russia alone is responsible for the death and destruction this attack will bring." German Chancellor Olaf Scholz described it as "a terrible day for Ukraine and a very dark day for Europe." "Peace on our continent has been shattered," said NATO leader Jens Stoltenberg.
Western countries are working to raise the pressure on Russia by increasing sanctions. Since Mr. Putin knew ahead of time about the possible sanctions, it's not clear what effects sanctions might have.
The attack on Ukraine had long been expected, even though Russia said it had no plans to invade.
For more background on the situation in Ukraine, see these articles:
• Russia 'Recognizes' Areas of Ukraine, Sends Soldiers
• Will Russia Invade Ukraine? Talks Could Lower Tensions
• Biden & Putin Meet Over Tense Ukraine Situation
---
Note: The situation in Ukraine is very serious. If this article brings up questions or worries for you, be sure to discuss them with an adult you trust.