Donetsk Oblast, Ukraine —(Map)
On Monday, Russia announced that it "recognized" two areas of Ukraine as independent countries. Russian President Vladimir Putin has sent soldiers to these areas for "peace-keeping". The US and European countries have reacted with strong sanctions.
Mr. Putin signed orders on Monday saying that Russia "recognized" two parts of Eastern Ukraine – Donetsk and Luhansk – as independent countries. Mr. Putin has now sent Russian tanks and soldiers into these two areas, saying they are on a "peace-keeping mission".
The US and other NATO countries say this is the first part of Russia's plan to invade Ukraine, which they have been warning about for months.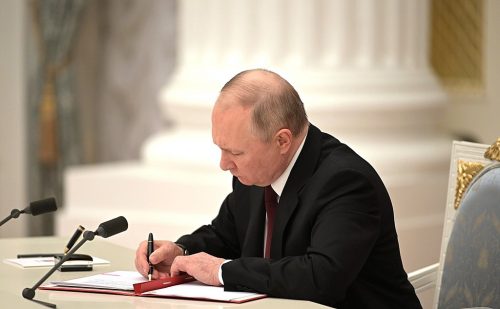 Background: Ukraine and Russia
After World War II, Ukraine was part of the Soviet Union (USSR). The USSR was made of Russia and many smaller countries. Ukraine became independent in 1991, but many people in the country still have close ties to Russia.
Russia has already invaded Ukraine once. In 2014, Russia invaded and took control of Crimea, a peninsula in southern Ukraine. In response, the US and many European countries put sanctions on Russia, but the sanctions haven't had much effect.
Also in 2014, with Russian support, two areas of Ukraine claimed they were independent of Ukraine. These areas – Donetsk and Luhansk, known together as "Donbas" – have strong ties to Russia. These are the regions that Russia has now recognized as countries. There has been fighting in and near Donbas since 2014, with Russia giving military support to the rebels.
The US and other Western countries have responded to Russia's actions with sanctions. These sanctions are efforts to punish Russia in ways that will cost it a lot of money.
😕
This image has not been loaded because of your cookie choices. To view the content, you can accept 'Non-necessary' cookies.
The sanctions include making it harder for some Russian banks to do business outside of Russia. Currently, the strongest punishment is from Germany, which has suspended the Nord Stream 2 gas pipeline – a project that was expected to bring billions of dollars into Russia.
Western countries aren't using all of their sanctions at once. They want to have more possible punishments left if Mr. Putin launches a stronger attack. In 2014, when Russia invaded and took Crimea from Ukraine, sanctions weren't strong enough and came too slowly to make Russia change its mind. Western countries hope to avoid that mistake this time.
😕
This image has not been loaded because of your cookie choices. To view the content, you can accept 'Non-necessary' cookies.
When US President Joe Biden announced sanctions Monday, he said that Russia had begun its "invasion" of Ukraine. Western countries are watching Russia's actions very carefully, and plan to increase sanctions if Russia continues its push into Ukraine.
It's not clear yet whether Russia's soldiers will remain in the parts of Donetsk and Luhansk that the rebels currently hold, or whether they will try to take over the regions completely.
Many military experts believe that taking control of the Donbas area is only a first step for Russia. They believe that Russia will later use these areas to launch a larger attack on the rest of Ukraine.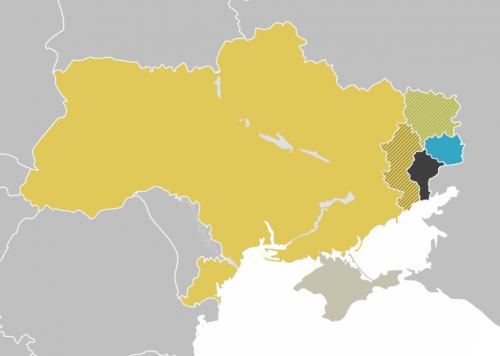 Mr. Putin has worked hard to get the Russian people to support his actions. Russian news sources have carried false information for weeks, trying to make it look like Ukraine was attacking people in the Donbas regions. On Monday, Mr. Putin gave a long, angry speech suggesting that Russia will try to take control of all of Ukraine sooner or later.
Though the US and NATO say they are still open to trying to resolve the crisis by talking, it's not clear how talks can change what's happening on the ground in Ukraine. Recognizing the Donbas regions as countries has completely broken agreements made in 2014 to end fighting in the area. After Mr. Putin's many lies about his plans for Ukraine, it's clear that outside countries can't trust his promises.
Still, without talks leading to a peaceful solution, the current situation could lead quickly to a large and deadly conflict. Many people worry that a battle over Ukraine could grow into an even larger conflict in the heart of Europe.
---
Note: The situation in Ukraine is serious and is still developing. Thinking about situations like this can be scary. If this article brings up questions or worries for you, be sure to discuss them with an adult you trust.
😕
This map has not been loaded because of your cookie choices. To view the content, you can accept 'Non-necessary' cookies.