Washington, DC —(Map)
On Friday, United States President Joe Biden chose Ketanji Brown Jackson to be the next new justice on the US Supreme Court. If Judge Jackson is approved by the Senate, she will become the first Black woman to serve as a US Supreme Court justice.
Mr. Biden was given a chance to choose a new justice when Justice Stephen Breyer announced in late January that he would be stepping down. Justice Breyer, who's 83, has served on the Supreme Court for nearly 28 years. He said he plans to step down this summer when the Supreme Court session ends, as long as a new justice has been approved.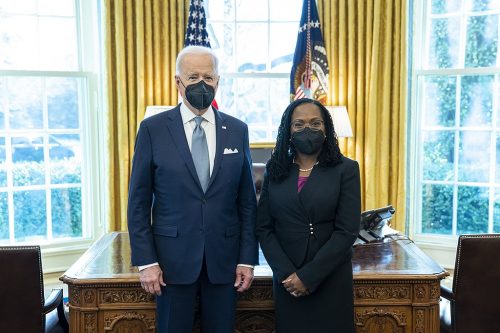 US Supreme Court
The Supreme Court is the highest court in the US. It has nine judges, called "justices" who decide which laws are okay and which ones are not. Choosing Supreme Court justices is one of the great powers of the president, but the Senate must approve a president's choice. Justices normally serve until they die or choose to step down.
The Justices' decisions affect lots of people. Justices who make decisions that Republicans often like are called "conservative". Justices who make decisions that Democrats often like are called "liberal". Justices who are in the middle are called "moderate".
Judge Jackson, who's 51, got her law degree from Harvard University. After Harvard, she worked for Justice Breyer for a while. Judge Jackson has a lot of experience with the law, and has spent time working in many different positions.
She worked as a private lawyer for several years before being hired by the US government to defend people. After that, she spent seven years as a US district judge in Washington, DC. She is currently a judge on the DC Circuit Court of Appeals, which is the second most important court in the country.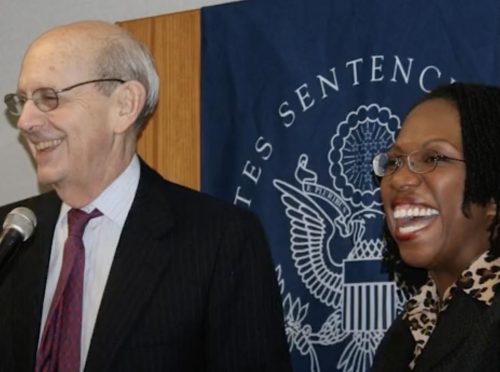 Choosing a new Supreme Court justice is a big deal for many reasons. Governments can change quickly because there are always more elections. But justices stay on the Supreme Court for a long time. The average is 16 years – twice as long as a person can be president.
When Mr. Biden ran for president, he promised that, if he had the chance, he would nominate a Black woman for the Supreme Court. Mr. Biden said he wanted to make the Supreme Court look "like America". The US has had 115 Supreme Court justices in all; 108 of them have been white men.*
Judge Jackson is seen as a "liberal" judge, with views similar to those of Justice Breyer. That means Mr. Biden's choice won't change the balance of the Supreme Court. Republicans have chosen six of the current Supreme Court justices. Democrats have only chosen three. But, if she's confirmed, Judge Jackson is likely to remain on the court for a long time and have a strong impact.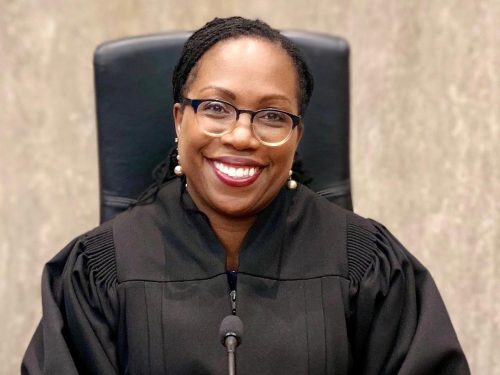 To join the Supreme Court, Judge Jackson must still be approved by the US Senate. Mr. Biden would like to get some Republicans to support Judge Jackson.
That may be possible. Three Republicans voted to confirm her last year for her current position. But if needed, Democrats should have just enough votes to confirm Judge Jackson, even without any help from Republicans.
Judge Jackson is expected to begin talking with senators this week. The process of confirming her for the Supreme Court could take a month.
😕
This image has not been loaded because of your cookie choices. To view the content, you can accept 'Non-necessary' cookies.
Some Republicans have criticized Mr. Biden for only choosing from among Black women. But other presidents have made similar promises. Two Republican presidents – Ronald Reagan and Donald Trump – promised to choose women when they had the chance to fill a Supreme Court seat.
* The seven Supreme Court justices who were not white men include two Black men and five women.
😕
This map has not been loaded because of your cookie choices. To view the content, you can accept 'Non-necessary' cookies.