Washington, DC —(Map)
United States Supreme Court Justice Ruth Bader Ginsburg died of cancer on Friday, at age 87. Justice Ginsburg, the second woman to serve on the Supreme Court, was a powerful voice for women and minorities.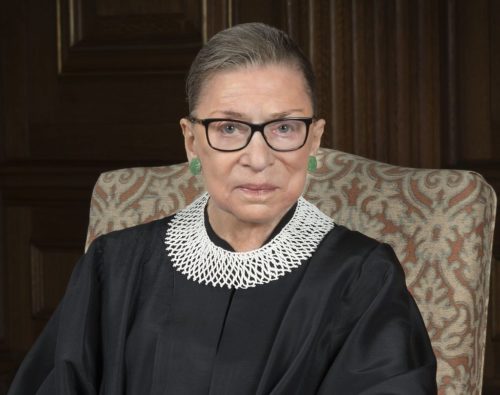 Her path to the court wasn't easy. As a young lawyer, Ms. Ginsburg had trouble finding a job with a law office because she was a woman.
Before joining the Supreme Court, she appeared in front of it as a lawyer, working for women's rights. Between 1973 and 1976, she won five of the six women's rights cases that she argued in front of the court. Ms. Ginsburg's cases made the point that women shouldn't be treated differently than men.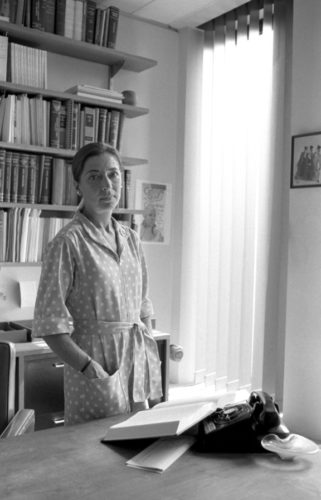 US Supreme Court
The Supreme Court is the highest court in the US. It has nine judges, called "justices". Together, they decide which US laws are okay and which ones are not. Once justices are chosen, they keep their jobs for the rest of their lives, or until they step down.
The Supreme Court makes decisions on important and difficult problems that many people disagree about. Because there are only nine justices, the vote of a single justice can make a difference in the lives of millions of people.
Often, the way people feel about an idea is connected to their political party. Justices who make decisions that Republicans often like are called "conservative". Justices who make decisions that Democrats often like are called "liberal". Justices who are somewhere in the middle are called "moderate".
Ms. Ginsburg was chosen for the Supreme Court by President Bill Clinton in 1993. Justice Ginsburg quickly became a force on the court, admired for her sharp mind and clear thinking.
Though she was one of the more liberal justices, she developed strong friendships with the other justices, even conservative ones.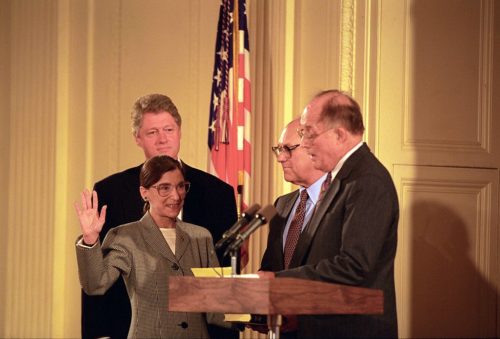 One of Justice Ginsburg's most important decisions was a 1993 case that forced the Virginia Military Institute to change its "men-only" rule. Justice Ginsburg argued that it wasn't fair to keep out talented women who could meet the school's tough requirements.
But Justice Ginsburg was also famous for her "dissenting opinions" – the ideas she wrote when she disagreed with the court's decision. Justice Ginsburg wrote these opinions in clear, powerful language. She believed that, with time, the dissenting opinions would be accepted as correct.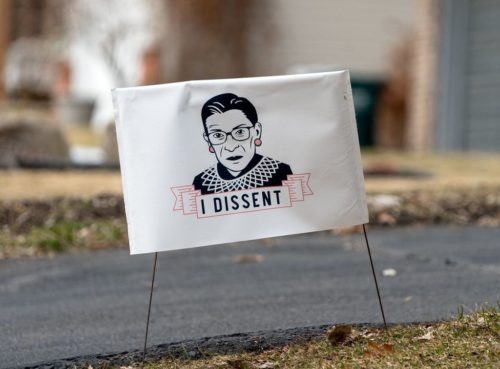 Because so many people, especially young women, were inspired by Justice Ginsburg, she became extremely popular. There are books and movies about her. Her picture can be found on T-shirts, coffee mugs, and bumper stickers, where she is often known by her initials, "RBG".
Justice Ginsburg had health problems for years, but she kept working. Since her death on Friday, her work has been praised by both Democratic and Republican politicians.
😕
This image has not been loaded because of your cookie choices. To view the content, you can accept 'Non-necessary' cookies.
Chief Justice John G. Roberts, Jr., who leads the Supreme Court, says Justice Ginsburg will be remembered as a tireless "champion of justice".
Who Will Choose the Next Justice?
The death of Justice Ginsburg sets off an intense battle to replace her. The situation is complicated because the country is only weeks away from an election for president. Choosing Supreme Court justices is one of the great powers of the president, but the Senate must approve a president's choice.
President Donald Trump says he plans to name a woman to replace Justice Ginsburg. Democratic candidate for president Joe Biden believes the new justice should be chosen by the person who wins November's election.
😕
This image has not been loaded because of your cookie choices. To view the content, you can accept 'Non-necessary' cookies.
In 2016, Senate Republicans, led by Senator Mitch McConnell, refused to allow President Barack Obama to name a Supreme Court justice, though the election was 10 months away. The Republicans claimed it wasn't fair for Mr. Obama to choose a justice because it was an election year.
Now, six weeks away from the 2020 election, Mr. McConnell is eager to get Mr. Trump's choice approved quickly. It's not yet clear whether the Republicans will have enough votes in the Senate to approve Mr. Trump's choice.
😕
This map has not been loaded because of your cookie choices. To view the content, you can accept 'Non-necessary' cookies.