Lyman, Ukraine —(Map)
On Friday, Russian President Vladimir Putin signed treaties that he claims turn four large areas of Ukraine into Russian land. Mr. Putin says he will strongly defend these areas. Western countries condemned the move, saying the land still belongs to Ukraine.
In his speech, Mr. Putin said, "People living in Luhansk and Donetsk, Kherson and Zaporizhzhia are becoming our citizens. Forever." Russian forces currently control much – but not all – of these areas of Ukraine. Together, they add up to about 15% of Ukraine's land. In each of the areas, governments have been set up that are run by people who support Russia.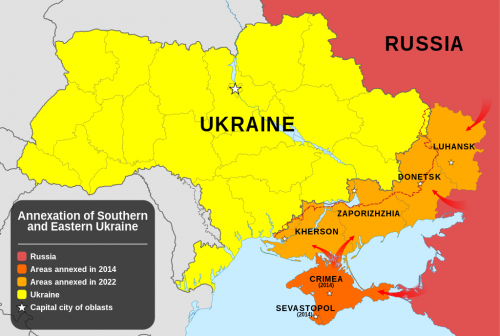 Luhansk and Donetsk, in eastern Ukraine, make up the Donbas regions. These are areas where Russia has many supporters, and fighting has been going on for years.
Mr. Putin's annexation of the four areas comes after referendums were held in all four areas. Voters were asked to decide whether the area should join Russia or not. The referendums passed in each region.
But Western countries say the referendums weren't held fairly, and that the voting was fake. For one thing, many Ukrainians have already left these areas because of the fighting. There were also reports of armed Russian soldiers forcing people to vote.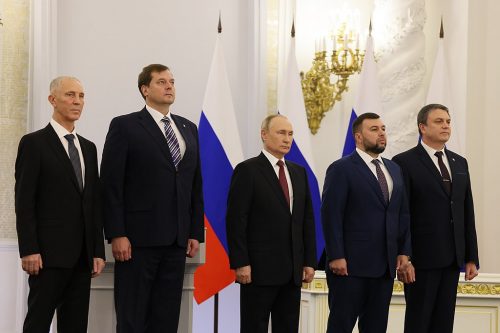 Western leaders say Mr. Putin held the referendums to make it seem like he was following the law in annexing these areas as Russian land. Then, if Ukraine continues to fight in those areas, Mr. Putin can use that as an excuse for taking more extreme steps. Russia says that any attacks in these regions will now be seen as an attack on Russia. Mr. Putin has even suggested that he would use nuclear weapons to defend Russian land.
In annexing these four regions, Mr. Putin is following the same pattern he used when he took Crimea from Ukraine in 2014.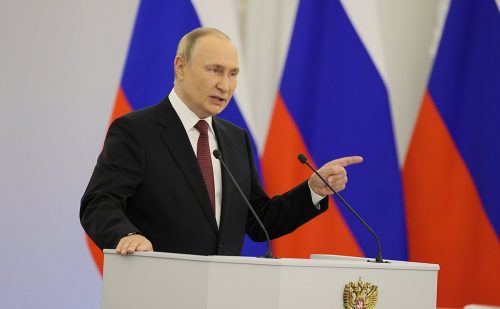 But even though Mr. Putin has claimed the four areas for Russia, Russian forces are not in firm control of the areas. Ukraine has been attacking strongly and taking back land that Russia won earlier. On Saturday, Ukraine took back the city of Lyman in Donetsk. This is seen as a key city. Losing control of Lyman will cause problems for Russia's forces, and make it harder for them to move weapons and supplies.
Ukraine President Volodymyr Zelensky said Russia was trying to "steal something that does not belong to it." He says Ukraine will continue to fight for its land. He also announced that Ukraine had officially asked to join the defense group NATO sooner than expected.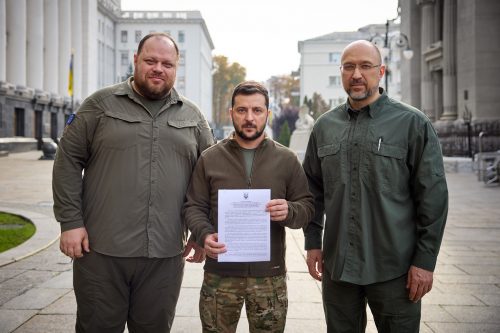 Western countries have condemned Russia's actions, and say they do not accept Mr. Putin's claims. United Nations leader António Guterres says the annexation "has no legal value". US Secretary of State Antony Blinken said the US would "always honor Ukraine's internationally recognized borders." The US and many other Western countries have announced more sanctions on Russia as a result of its actions.
😕
This map has not been loaded because of your cookie choices. To view the content, you can accept 'Non-necessary' cookies.