New Delhi, India —(Map)
On Monday, people across India began to celebrate Diwali, the festival of lights. People lit oil lamps in their homes, and set off fireworks to celebrate. Across the country, marketplaces, cities, and towns were decorated with colorful displays.
The Hindu celebration of Diwali is a time for people to get together with others. Lighting lamps and setting off fireworks are important parts of the holiday, as a sign of light winning out over darkness.
This is the first year since the start of the coronavirus pandemic that India has returned to a fairly normal celebration of Diwali. During the pandemic, people were encouraged to avoid getting together in large numbers. Many temples held ceremonies online, to keep crowds of people from coming together and spreading the virus.
But this year, large celebrations are back. On Sunday evening, around 100,000 people, including Prime Minister Narendra Modi, were gathered for a celebration at Ram ki Paidi.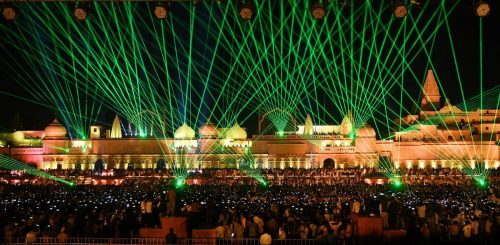 Ram ki Paidi is a long set of steps leading down to the River Saryu in the city of Ayodhya. The site, which is in the state of Uttar Pradesh, is often visited by people for religious reasons. The water in the river is believed to be holy.
In recent years, groups working together in Ayodhya have set Guinness World Records for the most oil lamps lit. In 2019, around 410,000 lamps were lit. In 2021, the number was 941,551.
On Sunday, the city broke its own record by lighting 1,576,955 oil lamps and keeping them running for at least 45 minutes. The event required the efforts of over 22,000 volunteers, mainly college students.
For years people have set off fireworks as part of the Diwali celebration. But around this time of year in India, many places, including the capital, Delhi, struggle with severe air pollution. The massive amount of smoke released by all the fireworks usually makes the air even more dangerous to breathe.
To cut down on this pollution, Delhi has become stricter about the use of fireworks. At first, people were encouraged not to set them off.
This year, the selling or use of fireworks in the capital has been banned. Anyone caught using or selling them could be fined or even sent to jail for up to six months.
But that didn't stop thousands of people from setting off fireworks in the capital. As Diwali started, the air pollution in Delhi began to rise rapidly. By late Monday night, Delhi had the worst air pollution on the planet. Luckily, the pollution wasn't as bad as in previous years.
Diwali isn't just celebrated in India, but around the world. Even in Western countries, the holiday is being celebrated more and more by people of Indian background.
In the US, the White House held its largest Diwali celebration ever, with President Joe Biden and Vice President Kamala Harris taking part. Ms. Harris's mother is from India.
In the United Kingdom, there were many large Diwali celebrations. Many people felt that it was special to have Rishi Sunak, who's Hindu, chosen as the UK's new prime minister on Diwali.