Hainan, China —(Map)
On Monday, China launched the final section of its Tiangong space station into space. After a 13-hour trip, the new section, known as Mengtian, docked with the space station on Tuesday morning, finally completing it.
The new section of the space station was launched from Hainan Island in the south of China. The rocket that carried it was a Long March 5B. That's a large rocket designed by China to carry heavy things into orbit.
China hasn't been allowed to use the International Space Station since 2011 over fears that it might steal technology ideas. As a result, China has worked hard to create its own space station, called Tiangong ("heavenly palace").
Last year, China began launching the three "modules" (sections) of its new space station, one at a time. The main module was launched in April 2021. It holds the power source and main controls for the station, as well as the living area for the astronauts. In July 2022, China launched the first laboratory module.
The new module is also designed as a laboratory. Called Mengtian ("dreaming of the heavens"), it's about 59 feet (18 meters) long. It has eight special research cabins for experiments.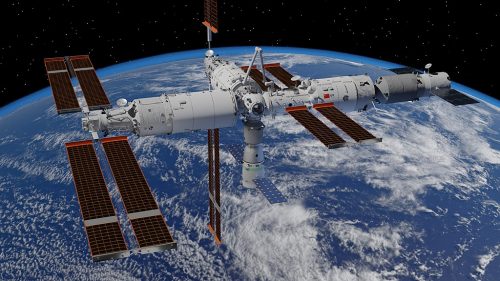 Mengtian is set up so that experiments can also be run outside the module itself. That will allow China to learn more about how being exposed to space affects things. Astronauts can use special robotic arms to run these experiments from inside the Tiangong.
One of the first experiments China will run on Mengtian will test how seeds grow after being exposed to radiation in space.
Currently, China has a crew of three astronauts on the Tiangong. They'll return to Earth in December. But they may overlap with three new astronauts who will arrive in December. Tiangong is now large enough for six people to live and work.
China's space program is working with the European Space Agency on some experiments on the Mengtian. China says that one day, foreign astronauts will also be able to visit Tiangong.
The Tiangong is expected to last 10 to 15 years. Though the Mengtian module completes the station, China could add more modules in the future.
China's space program has grown greatly in recent years with a series of successes on challenging missions. It has sent rovers to the moon and to Mars. Last year, China's Chang'e 5 probe brought moon rocks back to Earth. Those were the first moon samples brought to Earth since the 1970s.
But China has also been criticized for the dangerous way its rockets have returned to Earth.
Normally, space programs guide their booster rockets so that they fall to Earth where there are no people. China has not done this with its Long March rocket boosters. In 2020, pieces of one of its rocket boosters fell on villages in Ivory Coast, causing damage. In 2022, rocket pieces fell near villages in Borneo.
The massive booster that launched Mengtian is expected to return to Earth in about a week. As of now, no one knows where it will land.