Portland, Oregon —(Map)
A teenager was able to make life easier for a blind and deaf man recently by speaking to him in sign language on a long flight across the country.
Tim Cook is both blind and deaf. After visiting his sister in Boston, he was flying back to Portland, Oregon, where he lives. Because Mr. Cook can't see or hear, he was not able to talk with the people on the plane.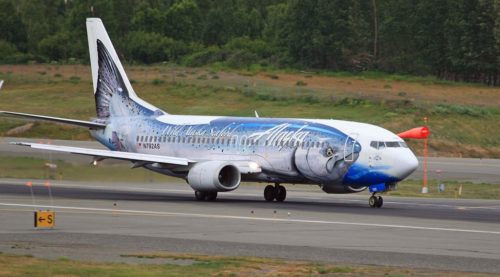 The flight attendants – the people who work on the plane – tried to help Mr. Cook. But they couldn't talk to him or ask him any questions. So the flight attendants asked over the plane's speaker if anyone on the plane knew sign language. Sign language allows people to share their ideas by moving their hands, and is often used by deaf people.
Clara Daly knew American Sign Language (ASL). The 15-year-old had taken classes in ASL for about a year. She came to Mr. Cook's seat and began to talk to him.

Clara spoke with Mr. Daly using "finger spelling". She made the shape of the ASL letters with her hands. Mr. Cook could feel Clara's hands, so he knew the letters she was making.
Clara asked him, "How are you? Are you O.K.?" During the long flight to Portland, Clara came to visit Mr. Cook several more times.
The people on the plane around them were happy to see that someone was helping Mr. Cook. Lynette Scribner, who was sitting in the same row as Mr. Cook, took pictures of the two of them talking.
This heartwarming inflight experience proves everything happens for a reason. https://t.co/utol8hK0Zs #iFlyAlaska #iAmAlaska pic.twitter.com/0bSRUCQyEE

— Alaska Airlines (@AlaskaAir) June 22, 2018
Later, Ms. Scribner posted a picture on the Internet and wrote about how happy she was to see Clara helping Mr. Cook. She said that it was a reminder that there are still "…good people who are willing to look out for each other."
Millions of people read Ms. Scribner's post. It has been shared over 700,000 times. Many people seemed happy for the chance to read about good news instead of bad news.
Mr. Cook said that he was surprised that so many people were interested in what had happened on the plane. He said he was "very moved" that Clara had come to talk with him. Clara later said, "It seems like such a lonely life to be deaf and blind – to not be able to see and hear."
Thanks to Clara, Mr. Cook's trip was a lot less lonely.
😕
This map has not been loaded because of your cookie choices. To view the content, you can accept 'Non-necessary' cookies.