Dhaka, Bangladesh —(Map)
Tens of thousands of people have been blocking the streets in Bangladesh for over a week in a protest for road safety. The protesters are mainly students, and began protesting after a bus killed two students and injured others in late July.
Bangladesh is known for a rather wild traffic system. Cars, buses, trucks and more share the road with human powered traffic. Rickshaws – a special kind of bike that can carry passengers – are a common way to get around. Many walkers also travel along and across the same roads.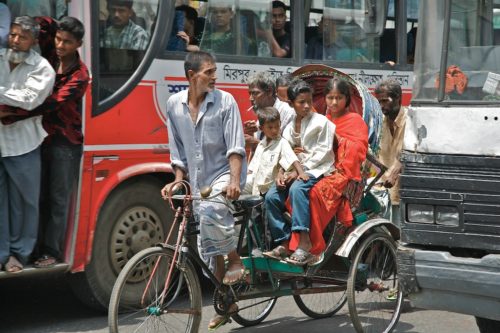 The government does not do a good job of controlling traffic. Over 4,200 people died in traffic accidents last year. Most buses are run by private companies. It is common for buses to race in order to pick up riders before other buses can pick them up.
That is how the accident happened. A bus was racing for riders and it ran into a crowd of people. It killed two students and hurt nine other people.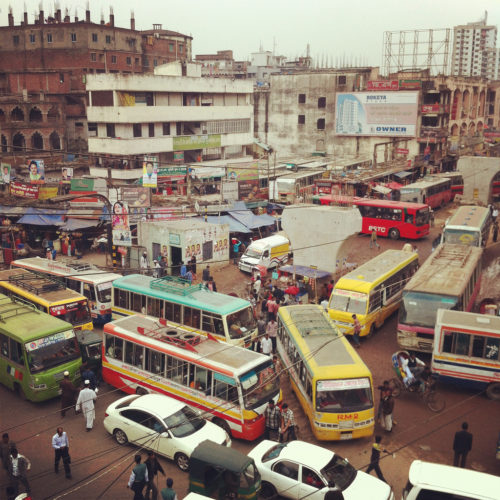 After videos of the accident were put on the Internet, students soon began to get together in the streets.
The protesters, who are mainly teenagers, were not very organized at first. They just said that they wanted safe roads.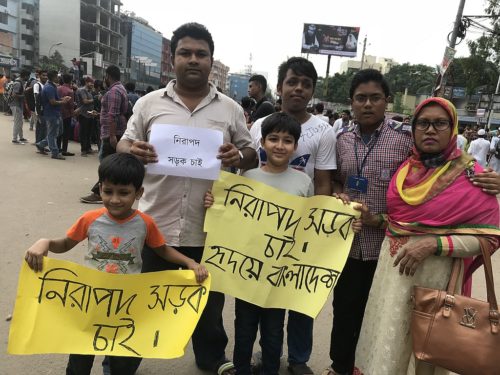 Over time, more people joined, and the protests got bigger. Now, high schools have been closed across the country for days, and many buses have stopped running.
The students have become more organized, too. They have a list of nine demands for road safety. They say they won't leave the streets until the government meets their demands.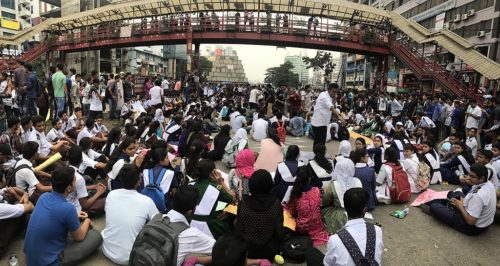 The students have shut down major roads in the country's capital, Dhaka, and in other parts of the country. They have been stopping cars and buses to make sure that they have licenses.
Some protesters are trying to control the traffic. For example, in some places they are creating different lines for traffic, and separating buses and rickshaws. Some people say the students have done better than the government.
Students of Bangladesh get down on streets to protest & demand #RoadSafety
They are checking license and controlling traffic. Massive respect for the law&order they've brought in Dhaka! Never thought this sort of discipline would've been possible!#WeWantJustice pic.twitter.com/z05ivHIbEC

— Tanishaa Arman (@Spellbound131) August 2, 2018
But the government wants the protestors to stop. They say that the protesters have damaged cars and buses.
The government says that it has agreed to work on road safety. It will put in bridges for walkers near schools and do a better job of making sure that only good drivers get licenses.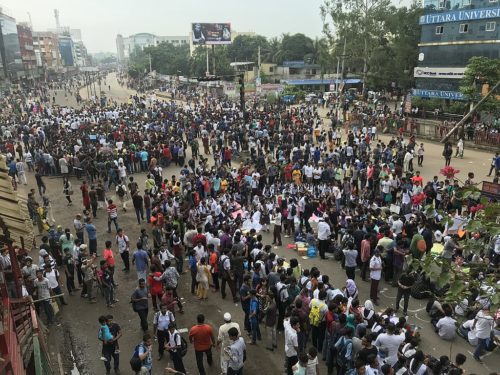 On Saturday, things got more violent. The police attacked the protesters to make them clear the streets. Police sprayed tear gas – a gas that hurts the eyes and makes it hard to breathe.
Reports say the police also hit the protesters and shot at them with rubber bullets. At least 25 people were hurt. Some people say that another group of students who are close to the government joined the police in attacking the protesters.
Some people say that the government has slowed down or turned off the Internet for phones and other mobile devices. This makes it hard for the protesters to share pictures and videos of what is happening in the streets. The government says that it did not do anything to affect the Internet.
😕
This map has not been loaded because of your cookie choices. To view the content, you can accept 'Non-necessary' cookies.