Cairo, Egypt —(Map)
Egypt's president has ordered that buildings in each area of the country must be painted in certain colors. The move is meant to improve Egypt's image, but it will be a difficult goal to meet.
The new rules require that owners of red brick buildings paint them. Egypt is divided into 27 areas called "governorates". Each of these areas will have its own special colors. In at least some areas, the work must be finished by March.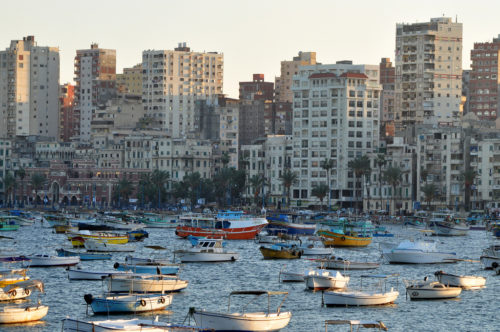 For example, in Cairo, red brick buildings will need to be painted in "dusty" colors. In cities by the coast, such as Alexandria, the colors will be blue. In each neighborhood, there will be a "color code" that must be used. Owners who don't paint their buildings may be punished.
The government is focusing on the red brick buildings that provide homes for many people in the country. Every part of the country is full of these buildings. One expert says that there are at least 10 million red brick buildings in Egypt. It will take a lot of paint and a lot of painters to cover them all.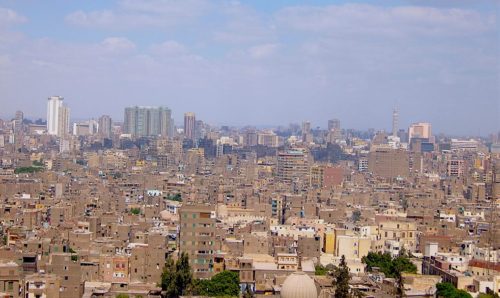 Egypt has about 100 million people, and that number is growing quickly. Egypt is struggling to find places for all of these people to live. Around 12 million Egyptians are homeless. Mustafa Madbouly, who is now the Prime Minister, has said that "Egypt needs to build 500,000-600,000 new homes a year to keep up with demand [the people who need houses]."
In 2016, Egyptian President Abdel Fattah al-Sisi said his country would build 1 million new homes. So far, the country has built around 600,000 of them.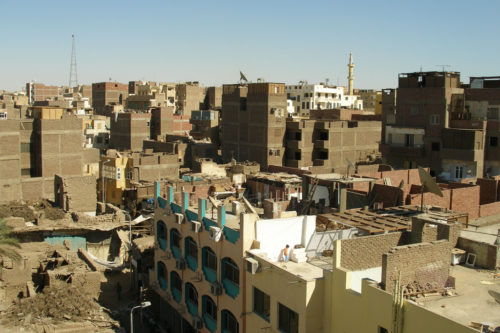 About 40% of Egyptians live in "informal" housing, sometimes called "slums". These buildings have been built quickly, often on land that does not belong to the builder. The builders do not follow all the rules for building houses safely, so the houses can be dangerous. But because they are cheap, many poor people live in them. In some places like Cairo, over 60% of the people live in informal housing. In the countryside, people may build their own informal houses out of brick.
The Egyptian government has a goal of getting rid of all of the informal housing in the country by the end of this year. In some cases, the government is simply kicking people out of their houses and leaving them homeless.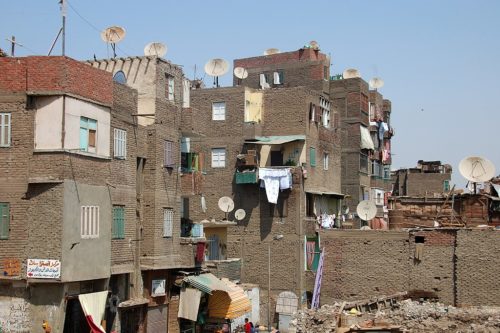 Many of the houses in the countryside and about half of the red brick buildings in cities are informal. The Egyptian government's rules and plans for housing raise many questions. Will the government really tear all the informal buildings down, leaving huge numbers of people homeless? Or will the buildings just get a new coat of paint? What will happen when poor people can't afford to paint their houses?
😕
This map has not been loaded because of your cookie choices. To view the content, you can accept 'Non-necessary' cookies.