Heat Wave in Europe Drives Wildfires in Greece and Turkey
Greece and Turkey have been battling huge wildfires over the last two weeks. Thousands of people have been forced from their homes.
In Greece, wildfires are burning across several islands. The worst is on Evia, the country's second-largest island. More than 2,000 people have been taken off the island by boat. Several countries have sent teams to Greece to help battle the blazes.
Turkey has had over 220 fires over the last two weeks. The southern coast of the country has been hit especially hard. Rain over the weekend helped fire fighters make progress on some fires. But at least six fires are still out of control.
Southern Europe has had a record-setting heatwave. Temperatures in Greece have reached 113º Fahrenheit (45º Celsius). The hot, dry weather has allowed wildfires to catch and spread easily. Strong winds have made them hard to fight.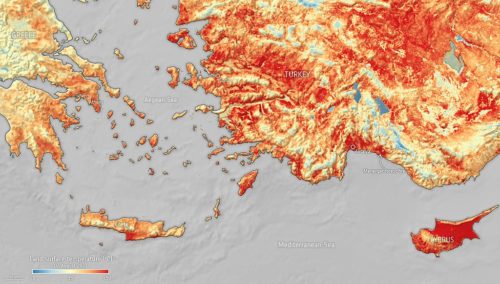 Hot weather continues to drive wildfires in other parts of the world, too. Siberia, Canada, and the United States are three areas where fire fighters are still struggling to get wildfires under control.
Protests Against Covid-19 Health Passes In France and Italy
There were large protests in France and Italy on Saturday over Covid-19 health pass programs. In France, over 230,000 people protested in cities across the nation. In Italy, the numbers were far lower, with a few thousand protesting around the country.
Both countries have started programs which require a digital health pass for people to take part in certain activities. The passes are meant to show whether someone has been vaccinated or has been tested and found not to have the coronavirus. The goal is to reduce the spread of the virus and to encourage people to get vaccinated.
Protesters believe the passes affect their rights to take part in activities and to choose whether or not to get vaccinated.
In France, the pass is required to go to cinemas, bars, or restaurants, or to travel on trains or planes. Italy's "Green Pass" is required for museums, cinemas, sports events, and indoor restaurants. It's also required for teachers and university students and workers.
In spite of the protests, most people in France and Italy support the health pass rules. Both countries also have strong vaccination efforts. In France, 55% of the people are fully vaccinated. In Italy, 63% of people over 12 are fully vaccinated.
Youngest and Oldest Medal Winners at the Tokyo Olympics
The 2020 Tokyo Olympics ended yesterday. In many ways, even though there were no fans watching, it was a very normal Olympics. It was tense and exciting, and there were lots of stories of surprising winners.
Young people did very well in many Olympic sports, but they did extremely well in skateboarding. Last Wednesday, 12-year-old Kokona Hiraki won a silver medal in the women's skateboarding park event. That made her the youngest Olympic medal winner in 85 years.
The oldest medal winner was 62-year-old Andrew Hoy of Australia. He won an individual silver medal and a bronze team medal in equestrian eventing. That's a special horseback riding event that includes jumps and obstacles. Mr. Hoy has competed in the Olympics eight times, starting in 1984.
---
Did You Know…?
Sky Brown, who skated for Great Britain, won a bronze medal in the women's skateboarding park event. Sky is just a little older than Kokona – she turned 13 on July 7. Kokona will turn 13 on August 26.