Severe Weather Continues Around the World
Severe weather patterns continue to bring dangerous conditions to many parts of the world. Though many of the weather events described below are normal, experts say that now they are happening earlier, more often, and with greater strength because of the climate crisis.
Wildfires
Massive wildfires continue to grow and spread across much of North America. High temperatures, extreme dry weather, and winds are making it challenging to bring the wildfires under control. Thousands of people in the United States and Canada have been forced to leave their homes.
At least 88 large fires are burning in the western US. More than 22,000 people are fighting the blazes. So far, the fires have burned over 2,188 square miles (5,666 square kilometers). That's an area larger than the US state of Delaware.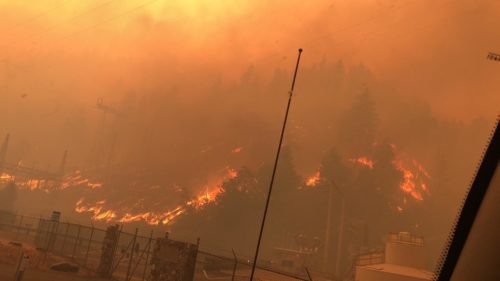 There are also around 275 fires burning in British Columbia, Canada. Mexico has sent over 100 fire fighters to Canada to help battle the blazes.
Siberia, normally one of the coldest places on Earth, is also having an early and intense wildfire season. Wildfires have already burned 30,000 square miles (77,700 square kilometers) of land in Siberia.
Around the world, wildfires are putting out so much smoke that the pollution can be seen from space. The smoke is making the air dangerous to breathe in areas near the wildfires. It's also affecting the air in places thousands of miles away from the fires themselves.
Typhoons, Monsoons, and Other Storms
In Asia, Typhoon In-fa made landfall near Shanghai, China on Sunday. The typhoon brought heavy rains, and winds as fast as 85 mph (137 kph). Tens of thousands of people were forced to evacuate. Schools and stores were closed, and flights into and out of Shanghai were canceled. The typhoon comes just days after deadly flooding in central China forced nearly a million people to leave their homes.
The Indian states of Maharashtra and Goa are struggling to recover from heavy monsoon rains that have caused flooding and landslides. In some cases, landslides have covered entire villages. At least 137 people have died. The country's military has helped rescue over 130,000 people who were trapped in roughly 900 villages across Maharashtra.
In Japan, Olympics organizers are closely watching a tropical storm that's expected to hit Tokyo on Tuesday. The storm isn't expected to become a typhoon, but it will still bring strong winds and heavy rains. Some Olympic events have already been scheduled for another time to avoid the effects of the storm.
Cockatoos in Australia Learn to Open Trash Bins
Scientists say cockatoos in Australia are learning how to open trash bins by watching each other. This is called "social learning", and it's pretty unusual in the animal world.
Opening the bin isn't easy. The cockatoos have to lift the heavy lid with their beaks and then walk along, pushing the lid up until it falls over. But once it's open, they usually find food scraps inside.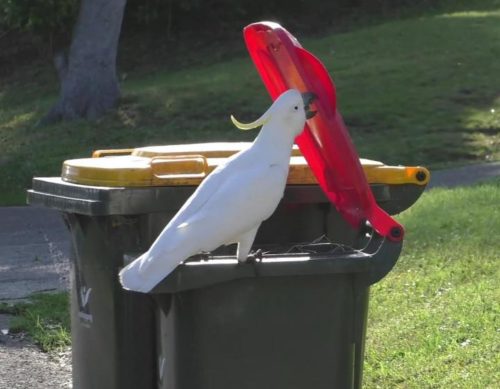 When scientists first began studying the cockatoos in 2018, only three areas near Sydney had lid-opening cockatoos. A year and a half later, cockatoos in 44 different areas knew the trick. The researchers could tell by the way the information was spreading that the cockatoos were learning the move by watching other cockatoos.
Though most cockatoos still can't open a bin lid, they seem happy to wait for another bird to open it.