After 200 Million Cases, the World Wrestles with the Coronavirus
It's been over a year and a half since the new coronavirus, SARS-CoV-2, began spreading around the world. In that time, there have been 200 million cases of the virus worldwide. At least 4.25 million people have died.
After scientists developed vaccines that worked against the coronavirus, many countries began to focus on vaccination programs. The vaccines are great tools for fighting the coronavirus, but they haven't stopped the spread of the virus yet.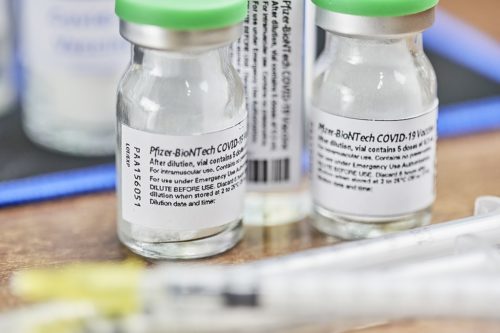 One reason is that many poorer countries are struggling to get vaccines for their people. Richer countries like the US and European nations have donated hundreds of millions of vaccines to other countries, but billions more are needed.
In some countries with strong vaccination programs, many people refuse to get vaccinated. Many of these people have gotten false information that fooled them into thinking that the vaccines may not be safe.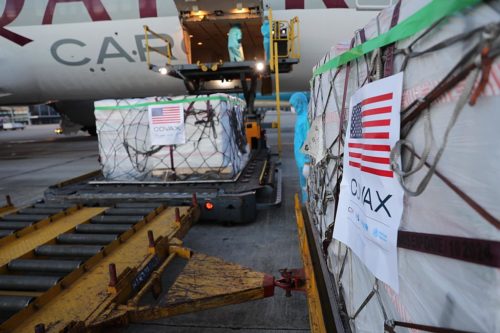 Finally, coronavirus "variants" – slightly changed versions of the virus – are making the virus harder to fight. Currently, the "Delta variant" seems to be the worst. It spreads quickly and may cause more serious illnesses.
The Delta variant is causing terrible problems in countries where people haven't had the chance to get vaccinated. Even in countries with plenty of vaccines, the Delta variant is having a strong effect on unvaccinated people.
It's clear that the coronavirus will be part of life on Earth for quite a while. The best hope for fighting it seems to be vaccinating as many people as quickly as possible.
Olympic Fast Track Leads to Many Broken Records
At the Tokyo Olympics, track athletes have been breaking Olympic records and world records. Some athletes have been surprised by their own results. Though these are the world's best athletes, some people think something else is helping the athletes set records: the track.
The track in the Olympic stadium was built by an Italian company called Mondo. Mondo claims that over half of the world records in the last 20 years have been set on its tracks. And its newest track is its best one yet.
US sprinter Ronnie Baker says the track feels like "walking on clouds". The track is made with special rubber pieces. Under the surface, it has air pockets which get squashed down when someone lands, and then spring back. The company says the track responds "like a trampoline".
The track isn't just good for runners, it seems to be helping jumpers set new records, too. Some people worry that new advances in shoes or other gear may help athletes too much. The Tokyo Olympic track, at least, seems to be helping all athletes equally.
Scientist Surprised to Spot "Real-Life" SpongeBob
Scientist Christopher Mah was watching a video being sent from a robot submarine deep in the Atlantic Ocean when he spotted something unusual: a sea sponge that looked like the cartoon character SpongeBob Squarepants. Nearby was a pink sea star that looked similar to SpongeBob's friend, Patrick.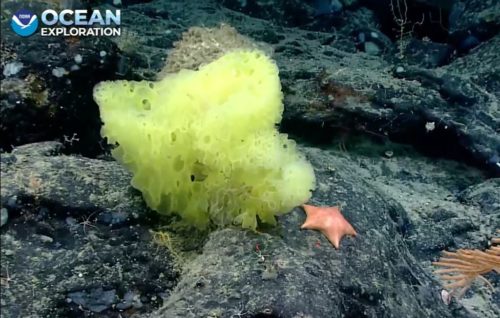 Dr. Mah was amused, and posted a picture on the internet. Many people loved Dr. Mah's picture. But the video of the sponge was actually part of a more serious NOAA science mission, studying deep water areas off the east coast of the US.
---
Did You Know…?
Real life is quite a bit different from the SpongeBob Squarepants cartoon. For one thing, most sea sponges aren't square, but grow in strange shapes that aren't very regular. Also sea sponges and sea stars aren't friends in real life. In fact, sea stars often eat sponges.