New Delhi, India —(Map)
Tens of thousands of farmers blocked highways and railroad lines across India on Monday, continuing their protest against the government's new farming laws. The protesting farmers were supported by the country's opposition political parties.
Monday marked one year since India's parliament approved three new laws which affect farmers. The laws have been strongly criticized by farmers, who quickly organized massive protests last year. Some farmers have been camping outside of the capital, New Delhi, protesting for nearly a year.
One important new law allows farmers to sell their crops to private companies. That's a big change. In the past, Indian farmers sold their crops to the government for prices that were set ahead of time, known as the "minimum support price" (MSP).
Prime Minister Narendra Modi's government says the changes give farmers more freedom and let them earn more money. The farmers worry that without government support, private companies will pay them far less.
More than 85% of India's farmers have small farms. They're afraid that large farming companies could sell crops to big companies at prices that are too low for smaller farms to match. Without the MSP, smaller farmers are afraid they'll be forced out of business.
Indians depend heavily on farming, and not just for food. Around 60% of India's people depend, in one way or another, on money from farming. This has helped attract a lot of support for the farmers' protests.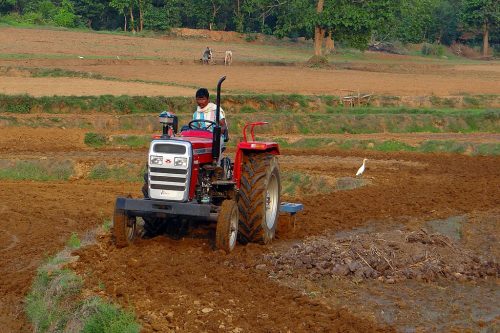 Monday's 10-hour protest was part of an effort to bring attention back to the farming laws after a hard winter and the country's terrible coronavirus troubles earlier in the year.
The protests were especially strong in New Delhi. Farmers waving flags took over the major roads and rail lines leading into the city. This blocked nearly all traffic coming into the capital from other states.
There were also large protests in states where farming is especially important, like Punjab and Haryana. The eastern state of Bihar also showed strong support for the farmers. The new farming laws have already been put into action in Bihar, and farmers there say they're suffering because of them.
Though farmers' groups called for a national strike on Monday, there wasn't as much support for a strike as the farmers have had in the past. But in some states, offices, schools, and markets were closed.
The protests also got strong support in states like Kerala and West Bengal, where the local governments are controlled by political parties opposing Mr. Modi's BJP party.
Many of India's opposition parties support the farmers. Farmers represent a huge group of India's voters, and many politicians hope the farmers' protests will weaken Mr. Modi and his party in future elections.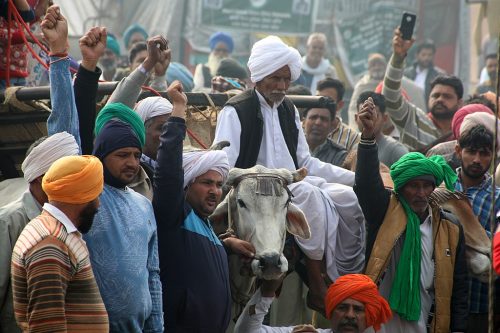 There have been talks between Mr. Modi's government and the farmers, but so far the talks haven't led to any deals. The government says it's willing to change parts of the new farming laws, but the farmers are demanding that the laws be dropped completely.
Rakesh Tikait, one of the farmers' leaders, says the protests will continue. "We will not leave even if it takes 10 years," he said.