Kyiv, Ukraine —(Map)
Russia has continued the attack on Ukraine that it began on Thursday. Russian forces are trying to take the capital, Kyiv, but Ukraine's soldiers are fighting hard. Western countries are increasing sanctions, but there's no sign that they're working.
In the first full war between two countries in Europe since World War II, Russia has a much more powerful military. Russian soldiers with tanks and other military equipment have entered the country from the north, east, and south. Russia has pounded Ukraine with around 200 missiles.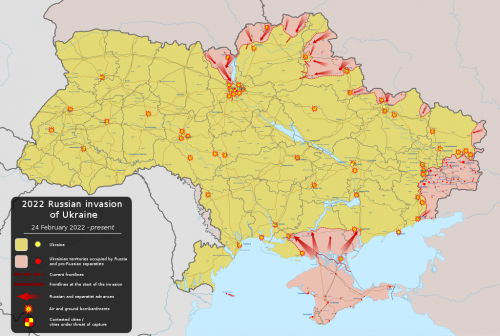 Russia's forces are trying to choke off the country's capital, Kyiv. Mr. Putin wants to remove Ukraine's current leaders and set up a government that's friendly to Russia. Though Ukraine President Volodymyr Zelensky has asked outside countries to help, he has warned Ukrainians, "We are defending our country alone."
Ukraine is fighting back harder than Russia seemed to expect. In some areas, it is holding off Russian soldiers. All Ukrainian men between 18 and 60 have been ordered to stay and help fight.
Over 50,000 people, mainly women and children, have crossed the border into countries like Poland, Moldova, Hungary, and Romania. Many more are still trying to get away.
Russia has taken control of Chernobyl, a nuclear power plant which had a deadly accident in 1986. Many people are worried about Ukraine's active nuclear power plants. They were designed to run safely in peace time, but could become dangerous if they're not properly managed during the war.
A move in the United Nations (UN) to condemn Russia's attack failed on Friday when Russia vetoed the idea. But 86 countries from around the world joined in condemning the invasion, and encouraged Russia to end its attack.
China and India are two large countries which have NOT condemned Russia's actions. The support of a large, powerful country like China makes it much easier for Russia to handle punishments from Western countries.
Western countries are working to raise the pressure on Russia by increasing sanctions. They have put punishments in place which target Russia's largest banks, as well as Mr. Putin and his close supporters. Germany has suspended the Nord Stream 2 gas pipeline project. The US has prevented certain kinds of technology from being sold to Russia.
But Russia is prepared for many of the sanctions that Western countries can bring. That's especially true if it has the support of China.
Harsher sanctions will also have strong negative effects on Western countries. One of the strongest punishments being considered is locking Russia out of an international banking system called SWIFT.* But doing this would also make things extremely hard on Western countries.
That's especially true for countries which depend on Russia for gas and oil. Heavier sanctions could drive the costs of fuel sky-high in the West and cause huge problems.
Ordinary people around the world have also been protesting in large numbers against Russia's invasion. Even in Russia, there have been large protests against the invasion. Police have arrested over 1,800 people in over 50 cities across Russia for protesting Mr. Putin's attack.
* SWIFT stands for the Society for Worldwide Interbank Financial Telecommunication.
---
Note: The situation in Ukraine is very serious. If this article brings up questions or worries for you, be sure to discuss them with an adult you trust.