Kyiv, Ukraine —(Map)
Six days after Russia invaded Ukraine, the war continues, despite peace talks. Russia has increased its attacks and seems to be using harsher methods. Western countries have greatly increased sanctions, which are having a strong effect inside Russia.
Russia has a much more powerful military and has surrounded Ukraine on several sides. Still, Ukrainian forces have surprised Russia by fighting back strongly. Russia is able to use missiles to hit Ukraine's cities and airfields from far away.
Recent missile attacks on Ukraine's second-largest city, Kharkiv, show that Russia may no longer be trying to avoid killing civilians. Some people believe Russia may be using weapons that many countries consider illegal. To escape the bombings, many people are hiding out in subway stations in large cities like Kyiv and Kharkiv.
Russia's forces have been trying for days to take control of the country's capital, Kyiv. They may be getting closer to reaching this goal. Satellite images on Monday showed a convoy of military vehicles 40 miles (64 kilometers) long coming closer to Kyiv. Mr. Putin wants to remove Ukraine's current leaders and set up a government that's friendly to Russia.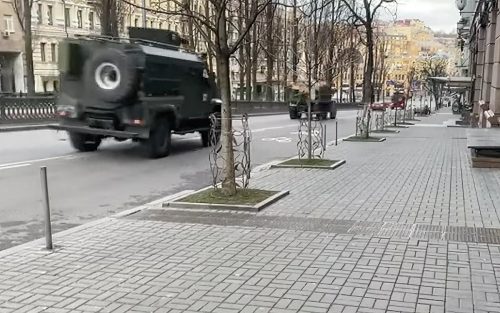 On Monday, members of both sides met in Belarus for talks aimed at ending the fighting. After several hours of talks, members of both sides went back to talk with their governments.
Some of Russia's conditions make an agreement unlikely. Russia is demanding that Ukraine agree that Crimea is part of Russia. Another of Russia's demands is that Ukraine agree to never join NATO. More talks are expected in a few days.
Over 500,000 people, mainly women and children, have run from the fighting into countries like Poland, Moldova, Hungary, and Romania. Some European countries are considering changing their rules to make it easier for Ukrainian refugees to enter.
Ukraine President Volodymyr Zelensky, who's still in Kyiv, in spite of the danger, has inspired Ukrainians to fight hard to save their country. He has also gotten European countries to support Ukraine in ways that many people thought weren't possible.
The European Union (EU) and Germany have both agreed to send weapons to Ukraine. Switzerland, which refused to take sides in both World Wars, has joined the EU in many of its sanctions on Russia.
Western countries have continued to raise the pressure on Russia by increasing sanctions. They have put punishments in place which target Mr. Putin, his close supporters, and Russia's largest banks. Some countries in Southeast Asia, such as Japan, Singapore, and South Korea have joined in the sanctions.
In addition to earlier sanctions, Western countries have begun to lock large Russian banks out of an international banking system called SWIFT.* This limits Russia's ability to send and receive payments to and from other countries. This is an extremely strong punishment which has hit Russia very hard. Russia's currency, the rouble, has dropped hugely in value compared to just a few days ago.
Huge numbers of people around the world have also been protesting against Russia's invasion. Over the weekend, for example, a protest in Berlin brought out over 100,000 people. Even in Russia, people continue to protest against the invasion.
* SWIFT stands for the Society for Worldwide Interbank Financial Telecommunication.
For more background on the situation in Ukraine, see these articles:
• Russia Continues Attack on Ukraine
• Russia Invades Ukraine, World Leaders Condemn Attack
• Russia 'Recognizes' Areas of Ukraine, Sends Soldiers
• Will Russia Invade Ukraine? Talks Could Lower Tensions
• Biden & Putin Meet Over Tense Ukraine Situation
---
Note: The situation in Ukraine is very serious. If this article brings up questions or worries for you, be sure to discuss them with an adult you trust.