Berlin, Germany —(Map)
On Sunday, Tigst Assefa of Ethiopia shocked the running world by smashing the women's world record for the marathon by over two minutes. Assefa finished the Berlin Marathon in just 2 hours, 11 minutes, and 53 seconds.
A marathon is a 26.2 mile (42 kilometer) running race. It is a hard race. Runners must not only be fast, but they must be strong enough to keep their speed up over a very long distance.
Many marathon world records have been set at the Berlin Marathon. The course is mainly flat and the weather is usually comfortable for running.
But Assefa's record was far beyond what most people expected. After all, it was only her third time running a marathon.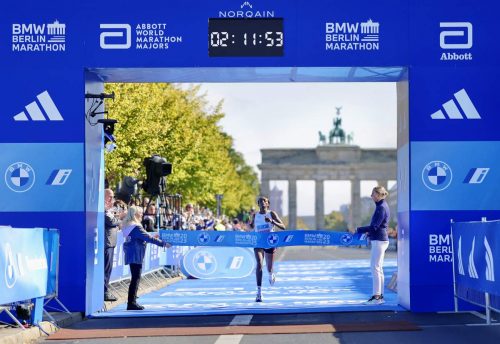 "I wanted to break the marathon world record," she said, "But I couldn't imagine that it would result in a time under 2:12."
When Assefa was younger, she started by running short races, called sprints. Then she became a middle-distance runner, running the 800 meters (half mile) race. Her best time in the 800 meters was 1:59:24.
Last March, she ran her first marathon. Then last September, she entered the Berlin Marathon. She won, and set a new women's record for the course, finishing in 2:15:37.
This year, she ran almost four minutes faster than she did last year. In both races, Assefa ran faster in the second half of the race than she did in the first half.
😕
This image has not been loaded because of your cookie choices. To view the content, you can accept 'Non-necessary' cookies.
Her time of 2:11:53 was over two minutes faster than the old women's record (2:14:04), which was set in Chicago in 2019 by Brigid Kosgei of Kenya.
When she finished the race, Assefa kneeled down and kissed the pavement before raising her arms in victory.
Though Assefa made it look easy, she said winning the race "…was the result of hard work." Assefa was coached by Gemedu Dedefo, who has helped train many Ethiopian star runners.
Assefa also had a secret weapon – her shoes. She wore special shoes made by Adidas which cost over $500. The shoes are built so that they collect energy every time the runner lands and give a special spring as the runner's foot leaves the ground again. Though the shoes are expensive, they only last for a few hours of running.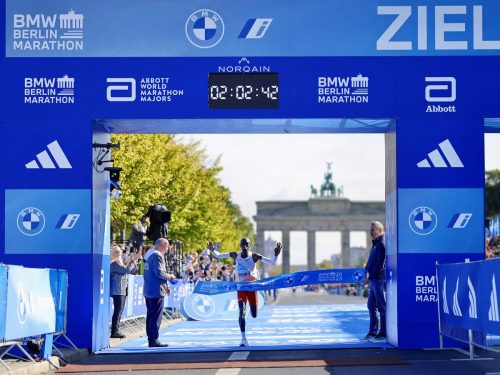 Once again, Eliud Kipchoge was the fastest man in the Berlin Marathon this year, with a time of 2:02:42. This is the fifth time he has won the Berlin Marathon, which is a record.
But Kipchoge fell short of breaking his own record time in the marathon. At last year's Berlin Marathon, Kipchoge finished in 2:01:09, setting a new world record, and breaking his old record by 30 seconds. This year, he finished about a minute and a half slower than last year.
But Kipchoge didn't seem bothered. "I always learn from every race and every victory," he said. "I'm very happy to win for the fifth time in Berlin."
😕
This map has not been loaded because of your cookie choices. To view the content, you can accept 'Non-necessary' cookies.