London, England —(Map)
A group called the Zoological Society of London (ZSL) has made a list of reptiles that are in danger. What makes these animals special is how different they are from other animals. They are weird and wonderful, and may not last long if they are not protected.
When there are no more of a certain species (kind of animal or plant), scientists say that species is "extinct". The reptiles on ZSL's list are "endangered". They are likely to become extinct if they are not protected.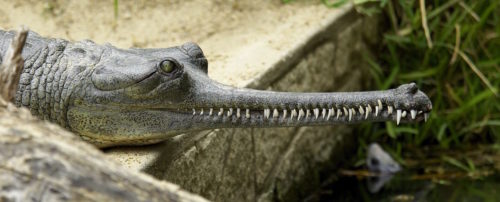 The ZSL calls their list the "EDGE" list. Animal species on the EDGE list are both endangered and very different from all other species. Some of the species on the EDGE list have been around since the time of dinosaurs. These species have changed slowly over time, and now there is nothing else like them.

Reptiles are a group of cold-blooded animals with scaly skin, such as turtles, snakes, and lizards. Reptiles have a backbone and lay eggs. When reptiles poop, pee, mate, or lay eggs, they use a special opening called a "cloaca". (Remember that – there's a really weird fact about a cloaca coming up!)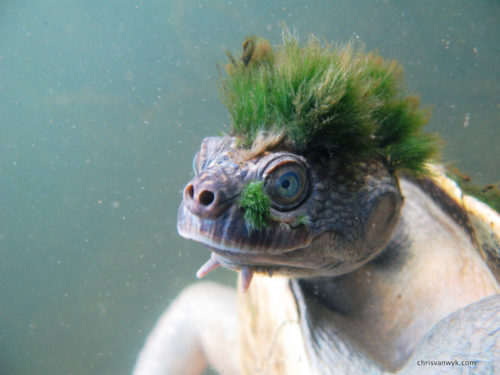 The star of the reptile EDGE list is probably the Mary River Turtle. This turtle looks like it has a green Mohawk. But the "hair" is really algae, which is like a plant that lives in water. This turtle is only found in the Mary River in Queensland, Australia. One of the reasons it's endangered is because people have taken them to use as pets.
The Mary River turtle doesn't just look different. It is different. It can "breathe" through its cloaca if it needs to. That allows it to stay underwater for up to three days.
The ZSL has made EDGE lists of other kinds of animals before. This is their first one for reptiles. Rikki Gumbs, who helped create the EDGE list for reptiles, said that reptiles often don't get the same kind of attention that mammals like tigers, rhinos, and elephants do. He said, "If we lose these species there will be nothing like them left on Earth."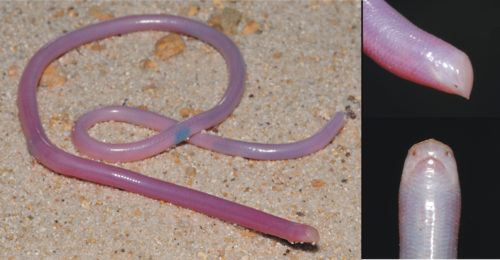 These days, many animals are having a hard time surviving. Sometimes they are hunted. Sometimes their habitats (the places where they live) have been taken over by humans. Often their habitats have been damaged or polluted. The world's weather is changing and that can also affect animals.