Bonneville Salt Flats, Utah —(Map)
On September 16, Denise Mueller-Korenek smashed the world speed record for a human on a bicycle. At her fastest, Ms. Mueller-Korenek was going 183.93 miles per hour (mph) (296 kilometers per hour (kph)). The event took place on Utah's Bonneville Salt Flats – a naturally wide open flat area that has been used to set many speed records.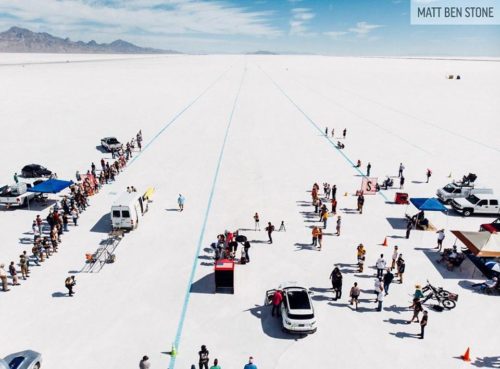 Ms. Mueller-Korenek was not setting a regular biking record and she was not riding a regular bike. The record she set is the paced bicycle land speed. In this sport, a bicycle is pulled behind a car until it gets going fast. Then the bike rider disconnects from the car and rides under their own power behind the car. Because the car is blocking the wind and helping to pull the rider along, the rider can go much faster than a normal bike rider can.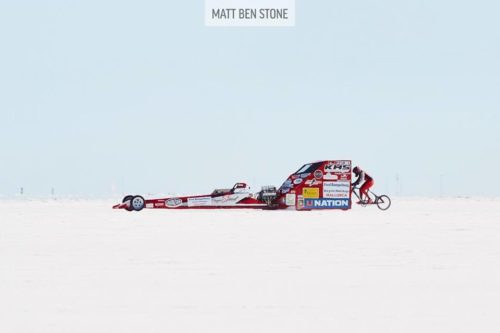 The gears on Ms. Mueller-Korenek's bike are very different from a regular bike. They are so hard to turn that the bike cannot be ridden until it is moving quickly. But once it is going, one complete turn of the pedals will drive the bike forward 138.5 feet (42 meters). A normal bike only goes about 17 feet (5 meters) for each complete turn of the pedals.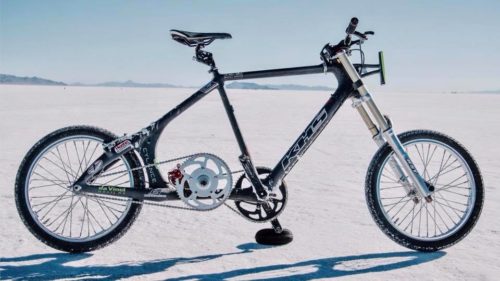 In 2016, Ms. Mueller-Korenek set the world record for paced cycling for women, going 147.7 mph (237.7 kph). The men's record was 167 mph (268.8 kph), set by Fred Rompelberg in 1995.
The high speeds make this kind of record setting very dangerous. The car driver and biker must work together perfectly. An unlucky rider will be hit by hurricane-strength winds the instant they slip out of the protected area behind the car. Mr. Rompelberg, who set the men's record in 1995, crashed and broke 24 bones during an earlier attempt in 1988.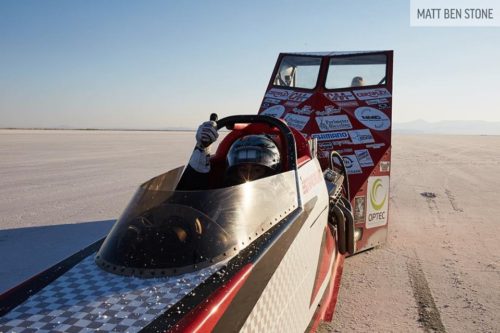 To protect herself, Ms. Mueller-Korenek wore a motorcycle helmet and a thick suit made for motorcycle riders. Her bike had motorcycle tires, since bike tires can't stand the high speeds.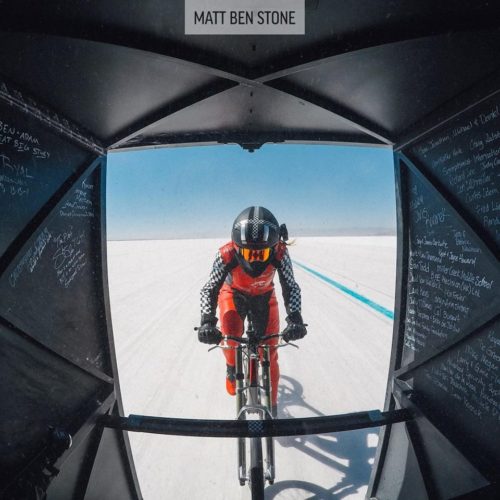 To set the record, Ms. Mueller-Korenek was pulled along behind a car driven by Shea Holbrook, a pro race car driver. When their speed reached about 100 mph (160 kph), Ms. Mueller-Korenek released the bike from the car. She then sped up over 80 mph faster, powering the bike with just her legs. Her top speed was 183.93 mph (296 kph).
This speed shattered Mr. Rompelberg's record by over 20 mph. Even Ms. Mueller-Korenek seemed surprised by how fast she'd gone. "Oh, shoot," she said. "We weren't supposed to go more than 175."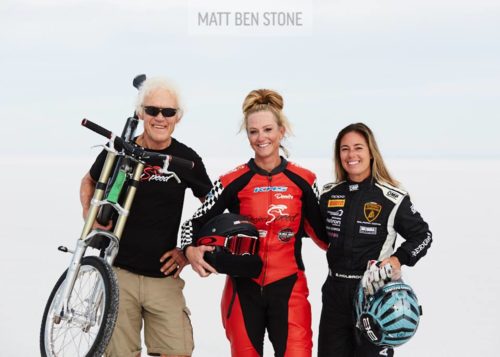 As a teen, Ms. Mueller-Korenek was a 15-time US biking champion. But she gave that up when she was 19. Now she is a 45-year-old mother of three children and runs her own business.
But she still loves to bike. "How often do you get the chance to be a pioneer, and do something that no one else ever has?" she asks.
😕
This map has not been loaded because of your cookie choices. To view the content, you can accept 'Non-necessary' cookies.