Samar Island, Philippines —(Map)
The storm season in the West Pacific and Atlantic oceans has begun with two strong storms. Late last week, the Philippines was hit hard by Typhoon Vongfong. In the US, Tropical Storm Arthur is expected to hit North Carolina this morning.
"Typhoon" and "hurricane" are two names given to the same kind of storm, a cyclone. Whether a storm is called a hurricane or typhoon depends on where the storm starts. A cyclone with lower wind speeds is often called a "tropical storm".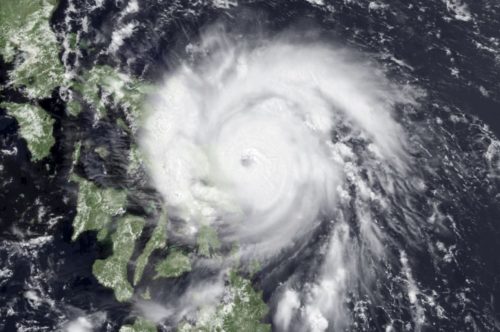 Cyclones form over oceans. The winds spin in a circle toward the center, which is lower in pressure. As the cyclone moves across the sea, it collects water into huge spinning clouds. The water is released as rain as the cyclone hits land. Cyclones can be hundreds of miles or kilometers across.
When a major cyclone begins, it's given a name from a special list. Different parts of the world use different lists.
Typhoon Vongfong
The central area of the island nation of the Philippines is struggling to recover after being battered by Typhoon VongFong late last week. The typhoon made landfall on Thursday, hitting low areas along the coast of Samar Island.
Traveling through the central islands, Vongfong made landfall six times in its first 24 hours in the Philippines. With constant winds of about 78 miles per hour (125 kilometers per hour) and gusts as fast as 102 miles per hour (165 kilometers per hour), Vongfong did serious damage.
Many homes were damaged or destroyed. Crops were ruined across huge areas of farmlands. Fishing boats, which many people depend upon, were swept away. The exact number of people hurt or killed by the typhoon isn't known. Communications are limited because electricity and internet lines are down.
The typhoon swept through an area where tens of millions of people live. Over 150,000 people were forced from their homes, and are now in emergency shelters.
The country's coronavirus epidemic is making the situation more difficult. Rescue workers must wear masks and protective gear, and are limited in how many people they can help at one time.
Some buildings which are normally used as emergency shelters during typhoons were already being used by people in quarantine. Workers are trying to keep people in shelters a safe distance apart, but it's challenging with limited space and so many people.
Typhoon Vongfong has now slowed to a tropical storm moving toward Japan.
Tropical Storm Arthur
Tropical Storm Arthur began off the coast of Florida on Saturday. It was expected to move up the eastern coast of the US before making landfall in North Carolina. Heavy rains, strong winds, and rough oceans are expected.
Arthur is the first named storm of the Atlantic Hurricane Season. Though the "season" officially begins on June 1, this is the sixth straight year that storms large enough to earn a name have appeared before June 1.