Hurricane Delta Hits Louisiana
Hurricane Delta hit Louisiana on Friday night, leaving over half a million people without power. Though Delta slowed down by the time it made landfall in Creole, Louisiana, it still hit with 100 mile-per-hour (160 kilometer-per-hour) winds.
Hurricane Delta quickly weakened, but its effects were still serious. The strong winds took out trees and power lines. Delta also dropped nearly 18 inches (46 centimeters) of rain in southwestern Louisiana in just 12 hours, causing flooding and other damage.
Delta was the fourth named storm to hit Louisiana this year. It hit just a few miles from the place where Hurricane Laura made landfall six weeks ago. Over 5,000 people in the area are still living in hotels because their houses were destroyed.
Before crossing the Gulf of Mexico, Delta first hit Mexico on October 7, forcing tens of thousands of tourists to leave the area. Delta made landfall at Quintana Roo – an area where many people were just recovering from the previous storm, Tropical Storm Gamma.
This year has set records for the number of severe storms in the Atlantic. It's only the second time that scientists have needed two alphabets to name all of the storms. Delta was the 10th named storm to strike the US in one year, which is a record.
World Food Program Wins Nobel Peace Prize
On Friday, the United Nations' World Food Program (WFP) was awarded the 2020 Nobel Peace Prize for its efforts to fight hunger. The Nobel Peace Prize is a famous prize given to people or groups that work to promote peace.
The WFP is the world's largest group working to fight hunger. Last year, it took action in 88 different countries, helping out nearly 100 million people. As the world has struggled to deal with the coronavirus, the WFP has worked even harder to make sure people have food.
Berit Reiss-Andersen, who leads the group that gives the Nobel prizes, said that the WFP was chosen to "turn the eyes of the world to the millions of people who suffer from or face the threat of hunger."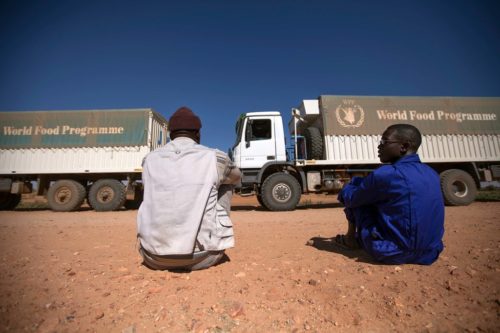 Every year, there are Nobel prizes in several areas, which come with an award of $1.1 million and a gold medal. Earlier this week, Nobel prizes were given out for chemistry, medicine, physics, and literature. A related prize in economics will be given next week.
$300 Million Scroll Stolen, Cut in Half
Last month, burglars stole around $645 million worth of valuable stamps, coins, and scrolls from an art collector's apartment in Hong Kong.
One of the stolen scrolls was hand-written by Mao Zedong, who led China from 1949 until his death in 1976. The scroll's owner says it's worth about $300 million.
When police announced details of the robbery, a man came forward saying that he had bought the scroll for $65. There was just one problem – the scroll was now in two pieces.
The man who bought the scroll didn't believe it had been created by Mao Zedong. He wanted to hang the scroll up, but it was too long. To make it easier to display, he cut the scroll in half.