Japan's Princess Mako Can Marry, But…
Japan's Crown Prince Akishino, the younger brother of the country's Emperor, says he doesn't mind if his daughter, Princess Mako, gets married. But the crown prince suggested that many other problems still stand in the way of the princess's marriage.
In 2017, it was big news when Princess Mako announced that she planned to marry Kei Komuro, her friend from college. That's because he was a commoner (not royal), which meant that Princess Mako would have to give up being a princess to marry him.
But after it was learned that Mr. Komoru's family owed money, the wedding was delayed until 2020. Recently, the wedding was delayed again.
Though the crown prince's approval was good news for the couple, it doesn't sound like the two will be getting married any time soon. Many people in Japan believe that Mr. Komura's family must pay all the money that it owes before a wedding can take place.
The crown prince said that many people in Japan don't approve of the marriage. He suggested that the couple must first convince the Japanese people.
South Korea Passes "BTS Law" Just in Time
On Tuesday, South Korea's parliament passed a law allowing some famous singers, actors, and athletes to delay serving in the country's military until the age of 30.
Before that, all healthy Korean men were required to serve in the country's military by the age of 28 or earlier. Normally, they serve for about 20 months.
Some people are calling the new law the "BTS Law", since the law will clearly be good news for South Korea's hugely popular boy-band, BTS. Jin, the oldest member of BTS, turned 28 on Friday. Suga, one of the group's rappers, will be 28 in March.
In the past, some athletes and classical musicians have been allowed to skip or delay their service. Now, the government can allow delays for any "pop culture artist" who has helped make Korea look good at home and around the world.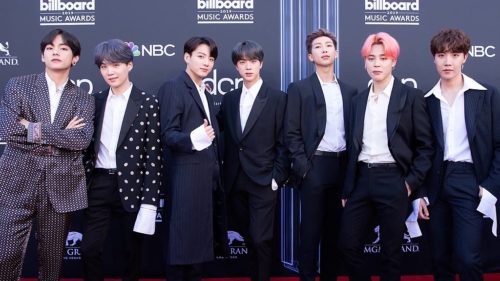 That certainly describes BTS, which is currently the most popular band in the world.
President-Elect Biden Breaks Foot Playing With Dog
On Sunday, it was announced that President-elect Joe Biden broke bones in his right foot while playing with his dog over Thanksgiving. Mr. Biden, who turned 78 on November 20, will become the oldest president ever when he takes office in January.
Mr. Biden was reported to have been playing with Major, one of his two German Shepherd dogs, over Thanksgiving. After slipping, Mr. Biden first thought that his ankle was sprained. But later scans showed tiny cracks in some of his foot bones.
For the next few weeks, Mr. Biden will be forced to wear a special "walking boot" to protect his ankle.
Mr. Biden and his wife Jill plan to take their two German Shepherds, Major and Champ to the White House with them. They adopted Major in 2018. In January, he will become the first rescue dog to call the White House his home.