Note: This article describes violence and a pattern of unfair treatment. It raises questions that don't have easy answers. If it brings up questions or worries for you, be sure to discuss them with an adult you trust.
Around the world, 26 countries are led by women. The United States has recently elected its first female vice president. You might think that with all the progress women have made in recent years, there's not much to worry about.
Sadly, that's not true. In spite of the progress, women are having to fight as much as ever to make sure they're safe and treated fairly.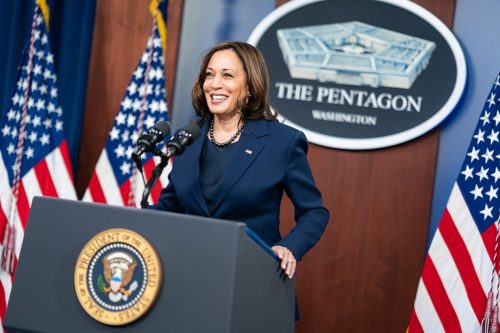 Violence against women is a huge problem around the world. The violence can take many different forms, but it exists in every country, in every city.
Because violence against women is a crime, it's common to imagine that only criminals are involved in it.
But many recent news stories have a repeating pattern: men in trusted positions of power, using that power to mistreat women. A second pattern is that when women complain about violent actions or being mistreated, their complaints aren't taken seriously.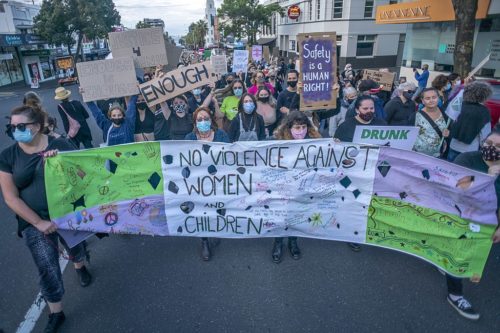 In early March, a woman named Sarah Everard was killed in England. It is believed that she was killed by a police officer.
On March 13, many women gathered in London to remember Sarah Everard. They didn't have permission to gather, and police were worried that the coronavirus might spread.
The police broke up the crowd, but they did it in a way that shocked many people. Several of the women were handled violently by the police. These events have led to protests around the country over a bill which would give more power to the police.
😕
This image has not been loaded because of your cookie choices. To view the content, you can accept 'Non-necessary' cookies.
In Australia, Brittany Higgins reported that she had been attacked inside the country's Parliament House. The person who attacked her hasn't been charged. In a separate event, it was reported that Australia's Attorney General – the country's top lawyer – had been accused of attacking a woman in 1988. He says he didn't attack her.
The two cases, along with a report on similar problems in schools, has led to a huge protest movement in Australia. On March 15, thousands of women took part in protests in 40 different cities in Australia. The event was called "March 4 Justice".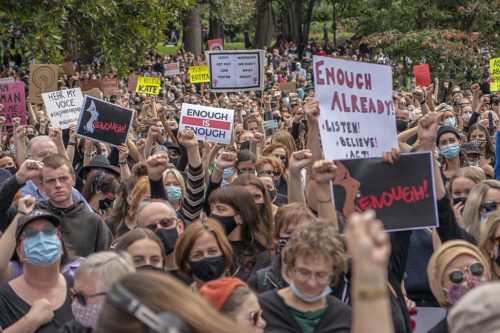 Last Tuesday, one of the highest-ranking women in Canada's army stepped down. Lieutenant Colonel Eleanor Taylor said she was "sickened" by the military's lack of action on attacks against women.
Recently, several very high-ranking officers in Canada's military have been accused of mistreating women. These include the last two men in charge of leading Canada's armed forces.
😕
This image has not been loaded because of your cookie choices. To view the content, you can accept 'Non-necessary' cookies.
In the US military, the number of attacks on women has kept going up in recent years, even though many people have complained about it. In January, Lloyd Austin became the US Secretary of Defense. His first official action was to demand a report on the best ways to end attacks on women in the US military.
Violence against women is an unpleasant topic, and something that's often hidden. But when it's hidden, or people pretend it doesn't happen, the problem is hard to stop. By bringing attention to these patterns of violence against women, the protesters hope to help end the violence, and make the world a place where women feel safe.